Crew Dragon successfully returns to Earth
Posted on Monday, 3 August, 2020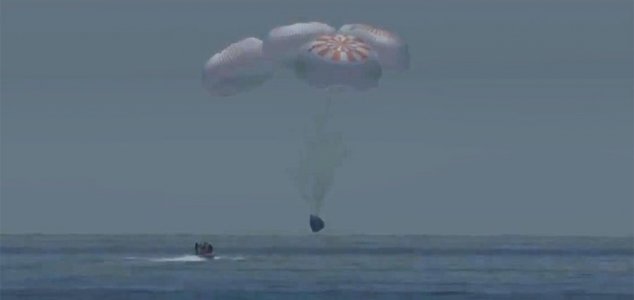 Four parachutes slowed the capsule's descent. Image Credit: SpaceX / NASA
NASA astronauts Robert Behnken and Douglas Hurley have safely returned home after two months in space.
The pair, who launched to the International Space Station aboard the first ever manned SpaceX Crew Dragon flight back on May 30th, successfully splashed down in the Gulf of Mexico on Sunday, marking the end of NASA's first crewed mission from US soil in nine years.
Behnken and Hurley spent 21 hours aboard the capsule during their return trip and their splashdown in the ocean is the first of its kind by NASA since the Apollo program 45 years ago.
"Thanks for doing the most difficult parts and the most important parts of human spaceflight - getting us into orbit and bringing us home," said Behnken as he emerged from the capsule. 
"I'm just proud to be a small part of this whole effort to get a company and people to and from the space station," Hurley added.
Their return marks the end of an extremely successful debut manned mission for SpaceX, paving the way for NASA to use its Crew Dragon for trips to the ISS for the foreseeable future.
"This day heralds a new age of space exploration," said SpaceX CEO Elon Musk.
"I'm not very religious, but I prayed for this one."
https://youtu.be/nHi0KNLUw5Q
https://www.unexplained-mysteries.com/news/337568/crew-dragon-successfully-returns-to-earth
Thanks to: https://www.unexplained-mysteries.com