John Cleese on the possibility of life after death
Posted on Monday, 10 August, 2020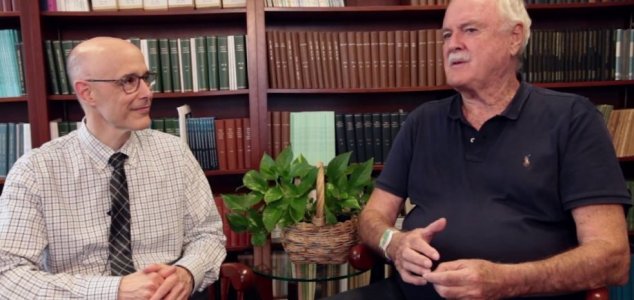 Cleese has a keen interest in past-life studies. Image Credit: YouTube / UVA Division of Perceptual Studies
The 80-year-old comedy veteran is a keen proponent of the idea that existence does not simply end when we die.
It's one of the most widely debated mysteries of all time and a subject that has perplexed scientists and philosophers alike for millennia - what happens to us when we die ?
One man who has delved into this subject in more detail than you might expect is John Cleese - a man whose career as one of the legendary Monty Python troupe needs no introduction.
In an interesting piece in the
Sydney Morning Herald
promoting the comedy veteran's one-man show
There Is No Hope
, Cleese spoke via telephone to writer Karl Quinn on the topic of life after death.
"I don't know anything in detail, but I've seen enough evidence that something goes on, certainly for some people, after they die," he said. 
"Once you start reading about that, you begin to realize it may be that consciousness is not produced by the brain. The brain is like a transmitter."
"It picks stuff up like a television set; the program's not made inside the set."
"I would like to do a TV series, trying to get people to open up to the idea of a life after death. Nothing to do with religion at all, purely to do with science."
Cleese is certainly no stranger to this topic, having previously moderated a debate on the subject and having shown a keen interest in the topic of young children recalling past-life experiences.
If he does go ahead with a TV series, it will definitely be one to watch.
https://youtu.be/4RGizqsLumo
https://www.unexplained-mysteries.com/news/338742/john-cleese-on-the-possibility-of-life-after-death
Thanks to: https://www.unexplained-mysteries.com