Two goats 'attack' police car on Isle of Wight
Posted on Monday, 24 August, 2020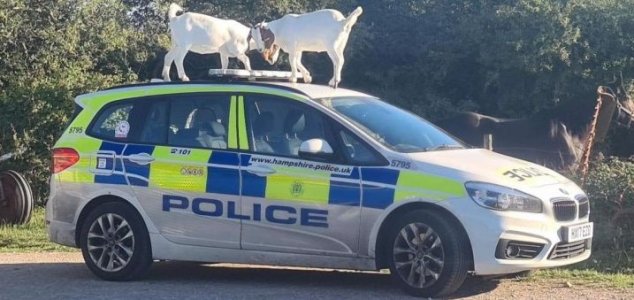 Have you seen these 'kids' ? Image Credit: Twitter / Isle of Wight Police
Police in the UK have launched a tongue-in-cheek appeal for information on the unlikely suspects.
The bizarre incident occurred on Tuesday when officers on the Isle of Wight - which is situated off the coast of England - attended the discovery of an unexploded World War II mortar shell near Newport.
After leaving their car unattended, it quickly became an impromptu climbing frame for two young goats which turned up and started clambering all over the vehicle's roof, causing minor damage.
An image of the animals caught in the act has since gone viral on social media and the Isle of Wight Police has issued a tongue-in-cheek 'witness appeal' for more information on the culprits.
"Unfortunately whilst at an incident on the outskirts of Newport yesterday, a couple of 'kids' caused damage to one of our police vehicles," the post reads. 
"If you recognize the offenders from the photo please let us know..."
The incident ended up producing a slew of goat-related puns on Facebook and Twitter.
Isle of Wight Police
@IOWightPolice
WITNESS APPEAL
Unfortunately whilst at an incident on the outskirts of Newport yesterday, a couple of 'kids' caused damage to one of our police vehicles. If you recognise the offenders from the photo please let us know....... https://m.facebook.com/story.php?story_fbid=171322567833095&id=102625051369514
11:05 AM · Aug 19, 2020
https://www.unexplained-mysteries.com/news/339024/two-goats-attack-police-car-on-isle-of-wight
Dedicated to bs4ever and: https://www.unexplained-mysteries.com