USAF shows interest in 'Hexa' VTOL aircraft
Posted on Wednesday, 26 August, 2020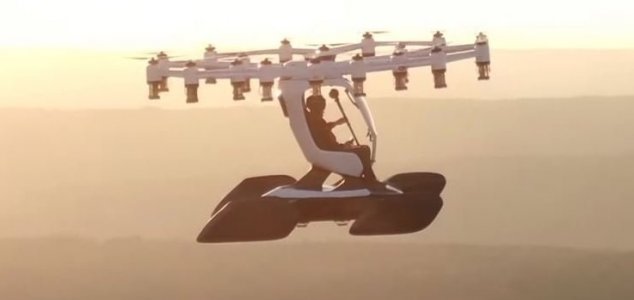 Is this the future of air travel ? Image Credit: YouTube / LIFT Aircraft
US Air Force leaders were on-hand to witness a test flight of the drone-like Hexa 'flying car' last week.
The unorthodox vehicle, which has been designed and developed by LIFT Aircraft, is capable of carrying a single person into the skies using 18 overhead electric motors and propellers.
Its development was first announced back in 2018, with the goal of having it certified as an ultralight aircraft that a civilian can fly with less than an hour of training and no pilot's license.
"We believe the market for experiential entertainment flying of electric multi rotors will be huge," said LIFT founder and CEO Matt Chasen.
"We will soon launch the first consumer flying experience - where anyone can fly with [less than] 1 hour of training, no pilots license required - for less than $250 per flight."
The presence of Secretary of the Air Force Barbara Barrett and Chief of Staff Charles Q. Brown, Jr at last week's test flight demonstration however indicates that the Hexa vehicle also has potential that goes beyond the civilian market.
LIFT is in fact one of 15 companies currently contracted under the US Air Force's 'Agility Prime' initiative which aims to accelerate the development of vehicles just like this one.
Officials are currently looking to identify potential military applications for the technology.
Whether soldiers are ever likely to be flying around in something like this however remains to be seen.
https://youtu.be/BSbynmTcAYk
https://www.unexplained-mysteries.com/news/339052/usaf-shows-interest-in-hexa-vtol-aircraft
Thanks to: https://www.unexplained-mysteries.com