The Dirty Secrets of Banks and Debt Collectors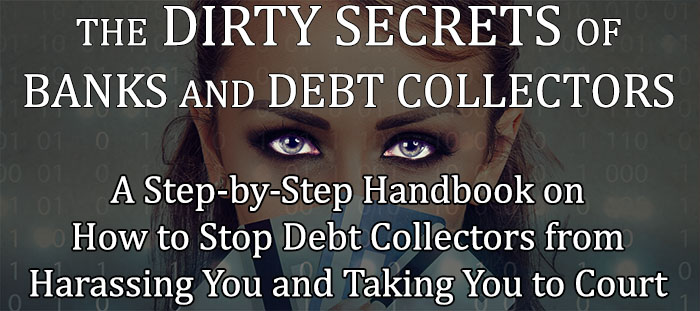 The Dirty Secrets of Banks and Debt Collectors
is a step-by-step handbook that teaches you empowering spiritual knowledge about money and debt. It also teaches you dirty secrets of the debt industry that debt collectors and banks do not want you to know. This handbook is 30 pages because it is designed to quickly teach you how to write and use letters to stop debt collectors from harassing you with phone calls and letters. The letter templates in this handbook are full of very powerful words that have the power to nullify all complaints from debt collectors, stopping them from taking you to court.
After reading
The Dirty Secrets of Banks and Debt Collectors: A Step-by-Step Handbook on How to Stop Debt Collectors from Harassing You and Taking You to Court
, you will know:


what a debt collector really is

the hidden agenda of debt collectors

the dirty secrets of banks, debt collectors, and debt buyers

why banks are not the true creditors of your so-called debt

important words to use to exercise your God-given rights

how to use words wisely so you are not an easy prey for judges, attorneys, and debt collectors, such as the IRS.

how to write your address so you do not fall under the jurisdiction of the government

how to sign your name properly

how to mail letters properly

how to write letters to nullify all complaints and offers from debt collectors.

Please be aware that
The Dirty Secrets of Banks and Debt Collectors
is written for people who want to stop debt collectors from harassing them in a responsible manner. If you are thinking about using the templates and materials in this handbook to take advantage of the debt collection industry, or abuse the government and the legal system, please do not buy it.
How to Buy The Dirty Secrets of Banks and Debt Collectors
The Dirty Secrets of Banks and Debt Collectors
(handbook) is available as a PDF and the templates are available as a Microsoft Word document and an OpenOffice document. The handbook and templates are bundled into one packet (zip file). Because this packet is a zip file, make sure you unzip (extract) it after downloading it. The price of the packet is 15.00 USD. To buy it, click the "Add to Cart" button below. An email containing the download instructions will be sent to your email inbox by
E-Junkie.com
shortly after purchasing the packet. If you cannot find the email in your email inbox, please check your spam folder.
The payment service is Stripe or PayPal. If you do not have a PayPal account, you can pay using the credit card option. Please take notice that there is
no refund
for this packet.
https://esotericknowledge.me/dirty-secrets-debt-collectors-handbook-stop-debt-collectors-harassing-you/
Thanks to: https://esotericknowledge.me