Late Lt. Col. hinted at fate of Project Blue Book
Posted on Thursday, 15 October, 2020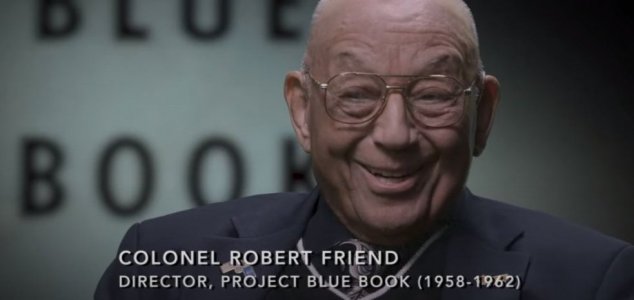 Colonel Robert Friend's last interview. Image Credit: YouTube / The Phenomenon Movie
A new documentary has hinted at what could be the real reason the US government shuttered its UFO program.
Carried out by the US Air Force between 1952 and 1969, Project Blue Book was an in-depth study of unidentified flying objects - the largest of its kind ever undertaken.
It had two main goals - to determine if UFOs were a threat and to scientifically analyze the data.
By the time the project had ended, it had collected an archive of some 12,618 UFO reports. While most of these were deemed to have conventional explanations, a small percentage of the sightings remained 'unexplained' even after being subjected to stringent analysis.
Officially, it was concluded that none of the UFO sightings investigated by the Air Force posed a risk to the United States and nor did they represent evidence of alien visitors or advanced technology.
Not everyone however is convinced that things were quite that straight forward.
In a recently released clip for new UFO documentary
The Phenomenon
, director James Fox speaks to Lt. Col. Robert Friend who headed up Project Blue Book from 1958 to 1963. 
During the interview - the last he gave before his death in 2019 at the age of 99 - Friend drew attention to the potential reason that the US government had decided to shut the program down.
"Which would suggest what ?" he said. "That they knew what [the UFO phenomenon] was."
"Or didn't know what it was," Fox suggested in response.
"Also the other way," Friend persisted with a smile. "That they did know what it was."
So was Project Blue Book discontinued because officials had found what they were looking for ?
If so, what could that have been ?
https://youtu.be/oPTVswrkV0Q
https://www.unexplained-mysteries.com/news/340174/late-lt-col-hinted-at-fate-of-project-blue-book
Thanks to: https://www.unexplained-mysteries.com