Coral 'skyscraper' discovered off Australia
Posted on Tuesday, 27 October, 2020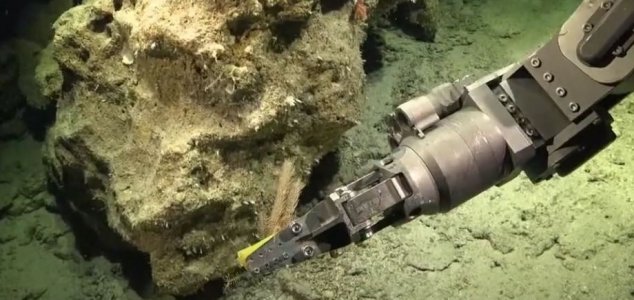 A robot was used to collect samples from the reef. Image Credit: YouTube / Schmidt Ocean
The remarkable 'detached' coral reef is the first of its kind to be discovered in more than 120 years.
At nearly 500 meters tall, the reef - which is situated off the coast of Queensland - is taller than the Empire State Building and is home to a thriving ecosystem of coral, fish and shark species.
Believed to be up to 20 million years old at its deepest point, the reef - which is separate from the Great Barrier Reef - was discovered last month during a year-long mapping project.
"We are surprised and elated by what we have found," said research leader Robin Beaman from James Cook University (JCU). "When we got to the crest of it - it's only about 300 by 50 metres wide - we found a lot of fish and a healthy shark population too."
To study the reef, the team has been using a submersible robot called 'SuBastian'.
"As a collective over the entire [12-month] expedition, we've been finding a whole lot of new species," said Beaman. "It's going to take time for us to work through the imagery and samples we've collected before we can say if there are new species [at this reef] or not."
The discovery of such a large underwater coral structure is a welcome sign at a time when coral reefs have been suffering from 'bleaching' and dying off due to rising ocean temperatures.
"This is evidence for the importance of exploring our undersea environment, so that we can protect it," said Schmidt Ocean Institute spokesperson Carlie Wiener.
https://youtu.be/L_Ee7JV5oSI
https://www.unexplained-mysteries.com/news/340400/coral-skyscraper-discovered-off-australia
Thanks to: https://www.unexplained-mysteries.com