NXIVM Sex Cult Leader Keith Raniere Sentenced To 120 Years In Prison
Date: October 28, 2020Author: Nwo Report 
Sex cult founder guilty of sex trafficking, racketeering, forced labor conspiracy, among other crimes"The 120-year sentence imposed on Keith Raniere today is a measure of his appalling crimes committed over a decade," says U.S. attorney
Source:
Jamie WhiteThe head of NXIVM Keith Raniere has been sentenced to life in prison for operating a twisted and violent sex cult that branded and sexually enslaved women.
United States District Judge Nicholas G. Garaufis of Brooklyn handed down the 120-year sentence after a grand jury found him guilty in 2019 of racketeering, racketeering conspiracy, sex trafficking, attempted sex trafficking, sex trafficking conspiracy, forced labor conspiracy and wire fraud conspiracy.
https://youtu.be/ZxYJsh3q5O4
"The 120-year sentence imposed on Keith Raniere today is a measure of his appalling crimes committed over a decade," stated Acting United States Attorney Seth DuCharme.
"Raniere exploited and abused his victims emotionally, physically and sexually for his personal gratification. It is my hope that today's sentence brings closure to the victims and their families."
FBI Assistant Director-in-Charge William F. Sweeney said Raniere's heinous sex trafficking enterprise justifies the long prison sentence.
"Raniere's reign of control over the women he scarred, both physically and emotionally, is the making of a horror story," Sweeney said. "It is inconceivable to think of the sexual exploitation, abuse, seclusion, and mind control his victims suffered—at his direction. Today the judge has given him 120 years to think about whether or not the torture he inflicted on others for more than a decade, and the distress he brought to their families, was worth it in the end."
In an interview with NBC News days before his sentencing, Raniere maintained his innocence, claiming that although "many, many people" got "hurt", that's a "different issue."
https://youtu.be/tmEOPOwZ_Ys
Raniere's NXIVM cult was linked to powerful individuals, including the family of the Seagrams whiskey fortune.
Seagram heiresses Clare and Sara Bronfman donated "hundreds of millions" to the sex cult for years.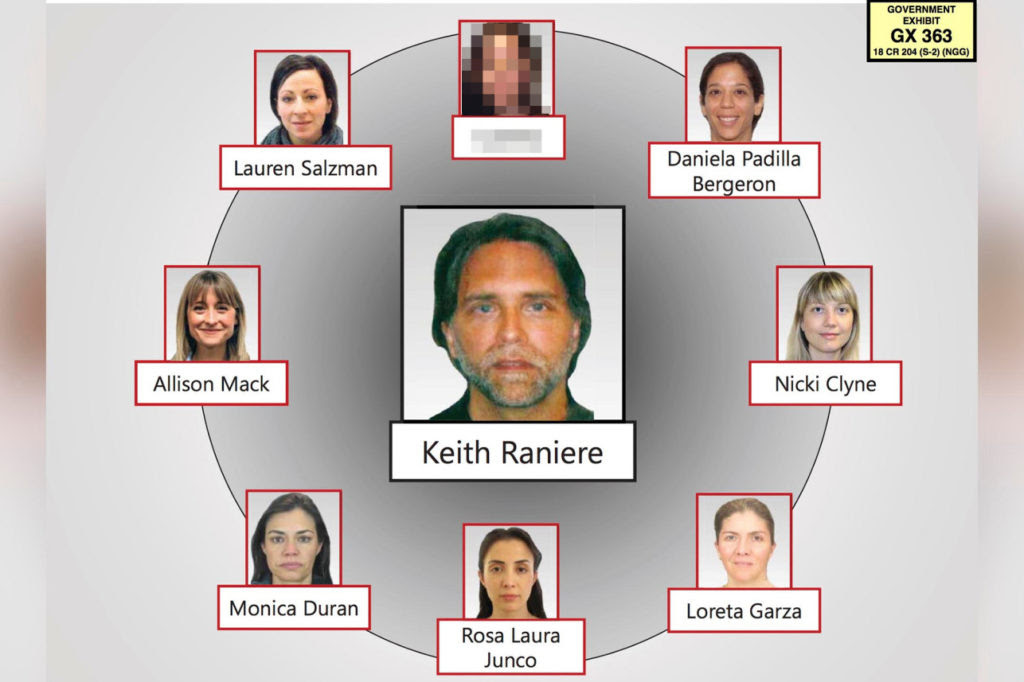 The Bronfman sisters, as well as Nancy Salzman, another high-ranking individual with NXIVM, was also a member of the Clinton Global Initiative.
Additionally, Salzman confirmed that the sex cult itself illegally raised donations for Hillary Clinton's 2008 presidential run.
Raniere had even plotted to install NXIVM members in "high-level" political positions to help expand the sex cult into a nationwide enterprise.
The NXIVM sex cult leader has now been convicted on all charges. During trial, a cult member testified she raised money for the Hillary Clinton campaign in 2008. Alex breaks down they shady ties between the Clintons and sex cults.https://nworeport.me/2020/10/28/nxivm-sex-cult-leader-keith-raniere-sentenced-to-120-years-in-prison/Thanks to: https://nworeport.me