So many Votes... So much Fraud to Count! Here's the Rundown
Former Nevada AG Claims Trump Would 'Convincingly' Have Won State Without Mail-In Voting
Date: November 6, 2020Author: Nwo Report
Source:
Jon Brown
The former Republican attorney general of Nevada said last night that President Donald Trump would have "convincingly" won the state if mail-in voting laws had not changed 90 days before the election and if Republicans had been better able to monitor the ballot counting process.
Adam Laxalt, speaking on "Tucker Carlson Tonight," said, "Let me first say we believe we have a path to victory, but the Democrats have absolutely stacked the deck against us in this election."
"They've changed this election inside 90 days and as votes are being counted and America thinks that with all these mail-in ballots, that you think you have people watching that counting going on, we are still not allowed to watch the signature-matching," Laxalt continued. "We are not allowed to challenge any of those signatures. So, they switch us to this new system, and they give us no right to be sure that only legal voters count. As America knows, those that stayed up like me all night — they dumped these at 3 a.m. They counted through the middle of the night."
"They're counting all day today," Laxalt went on. "And we're still having to wait until tomorrow. And we are still right at this second, not in that door. And I warned them about this — that if it came down to Nevada, we'd finally get people to pay attention to the fact that the Democrats didn't give us this right, and a judge agreed that we weren't entitled to this right. Of course, we disagreed with that, and we're still fighting that. But just for your viewers, that has to be quite startling that almost 400,000 votes were cast last night, and there was no observation, no transparency. And you know, we're supposed to just trust but not be able to verify."
"There is no question that Donald Trump would have won Nevada last night convincingly if we did not move to mail-in ballots," Laxalt asserted. "And again, we don't know how bad voters there are in this giant stack. We also know there are likely to be dead voters. There are likely to be people that have moved out of Las Vegas but found their ballots were still cast. So we're looking into all of this, but it's just astounding when you watch the news commentary last night about this. They keep acting these systems are foolproof, and there's no way that any improper voter can get through. And it is just simply not true."
Democratic presidential nominee Joe Biden took the lead in Nevada on Thursday as more ballots were reported. The Trump campaign intends to sue over alleged widespread voter fraud. As The Daily Wire reported:
The Trump campaign announced Thursday that they are filing suit in Nevada over alleged nonresidents and the deceased voting in the presidential election.
According to Team Trump, "tens of thousands" of illegal ballots have been cast in the hotly contested state, including from dead people and nonresidents.


https://nworeport.me/2020/11/06/former-nevada-ag-claims-trump-would-convincingly-have-won-state-without-mail-in-voting/
Dead people are voting in Michigan in record numbers…
j Uncategorized November 6, 2020 1 Minute
By Leisa Audette | Nov 5, 2020
Dead people are voting in Michigan in record numbers…
Essential Fleccas is going through the voter rolls in Michigan to expose the use of people long gone to cheat in the election. He's just plugging in the information and getting results of dead voters who voted in the 2020 election: Try it here: MICHIGAN VOTER INDEX USING THE SS DEATH INDEX
Watch the videos below where a dead person's information is entered and it shows they voted this year. People's Pundit double checked the information and found it is correct. Dead people are voting in Michigan.

Peoples_Pundit
@Peoples_Pundit
Lol! He's right. I used info via Social Security Death Index on "Your Voter Information" on the Michigan SoS website. William was born in 1902, died in Detroit at age 82 in 1984. He applied for an absentee ballot on 9/11, submitted it on 9/19. They've been at it for months.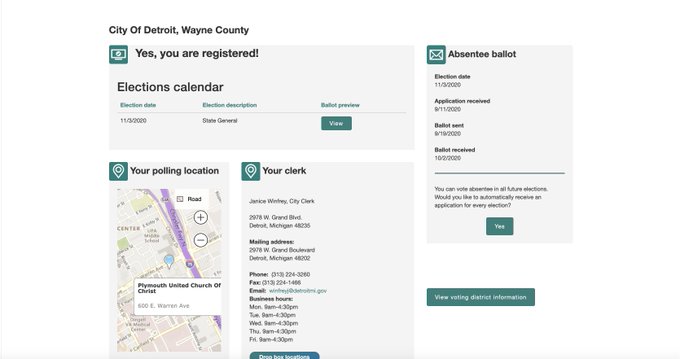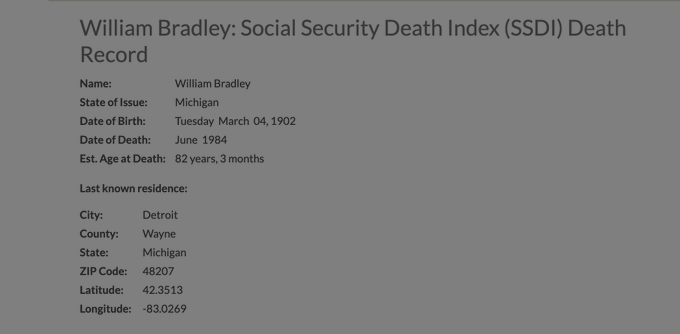 Essential Fleccas
@fleccas
Turns out 118 year old "William Bradley" voted via absentee ballot in Wayne County, Michigan. William Bradley died in 1984. How long has this been going on? Try it for yourself:
MORE HERE: https://jonsnewplace.wordpress.com/2020/11/06/dead-people-are-voting-in-michigan-in-record-numbers/
WATCH: Trump Team Confronts Philly Officials For 'Violating' Judge's Election Order
Date: November 6, 2020Author: Nwo Report 0 Comments
Source:
Amanda Prestigiacomo
The Trump campaign won a massive legal battle on Thursday, allowing Republican observers to be six feet from the ballot-counting process in the hotly contested state of Pennsylvania.
Previously, observers were pushed back from 16 to 100 feet away from the ballot counting process.
The legal battle, however, is not being effectively enforced, former Florida Attorney General Pam Bondi argued. While they pushed barricades around the ballot counting to six feet, she said, the ballot machines have been pushed to the back of the room, far beyond the six-feet barrier outlined in the legal ruling.
"Philadelphia update!!! Judge orders observers allowed in ballot counting! We were still Denied access so ALL voting has ceased!" Bondi celebrated on Twitter at around 11 a.m. Eastern Time. 
"We plan on entering that building right now and legally observing," Bondi also said, according to The New York Daily News. "If there is one illegal vote cast, it takes away from the great men and women of Pennsylvania who came out and issued a legal vote."
Read More
https://nworeport.me/2020/11/06/watch-trump-team-confronts-philly-officials-for-violating-judges-election-order/
What is Going On? Minnesota and Wisconsin BOTH had 89%-90% Turnout — Something That Is Highly Unlikely
j Uncategorized November 6, 2020 1 Minute
Jim Hoft
Published November 4, 2020
What is Going On?
Minnesota and Wisconsin Turnout Was Strangely High This Year
Fred Sauer
Minnesota and Wisconsin, two states controlled by Democrats and which were forecast to be competitive in the 2020 presidential election, had anomalously high turnout relative to nearby states and other competitive states.
2020 Election Results
The two states also had anomalously high turnout relative to the previous four presidential elections.
This is highly suspect.
And even with the high turnout trick Democrats are only 20,000 votes ahead of Donald Trump.
President Trump had a historic night and the criminal left stole it from him and were brazen about it.They are the new mafia.
Presidential Election Turnout
via What is Going On? Minnesota and Wisconsin BOTH had 89%-90% Turnout — Something That Is Highly Unlikely
https://jonsnewplace.wordpress.com/2020/11/06/what-is-going-on-minnesota-and-wisconsin-both-had-89-90-turnout-something-that-is-highly-unlikely/