Chinese lanterns and mass UFO sightings
Posted on Thursday, 12 November, 2020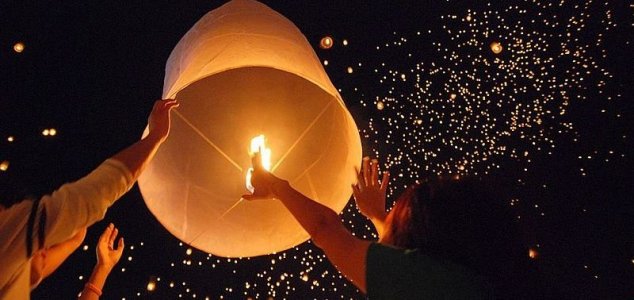 Sky lanterns being released as part of a festival in Thailand. Image Credit: CC BY-SA 3.0 Takeaway
Countless UFO sightings over the years can be attributed to a rather mundane phenomenon.
Imagine the scene - you are looking skyward on a cold, wintry evening when you notice something strange - an eerie orange orb moving silently across the sky, illuminated against the darkness.
You might be tempted to conclude that you've just seen a UFO, especially if there's more than one, however there is actually a conventional explanation for such sightings - Chinese lanterns.
These small floating objects are essentially miniature hot air balloons made from paper. A small fire burning beneath a hole at the bottom heats up the air inside and causes it to float skywards.
In Asia, lanterns like these have been used in festivities for centuries, however in more recent years they have become more popular in the Western world - sometimes being used during memorial events, weddings, birthdays and other celebrations.
Sightings of orange orb-like UFOs have also similarly increased.
"We could see these orange lights about the size of a football travelling across the sky," one witness - David Haigh of Chickerell, England - stated following a recent sighting.
"There were no navigational lights or anything so it couldn't have been an aircraft or anything like that. They were about a quarter of a mile high and travelling too fast for the wind to be blowing them."
"It was quite strange, I have never seen anything like it. It really spooked us. Nobody had any idea what it could have been. UFOs are all we can think they are."
While many authorities have condemned the use of these lanterns due to the potential for them to cause fires and interfere with air traffic, many people are still releasing them.
A video demonstrating what they look like in the sky can be viewed below.
https://youtu.be/93KHh_VRz7c
https://www.unexplained-mysteries.com/news/340818/chinese-lanterns-and-mass-ufo-sightings
Thanks to: https://www.unexplained-mysteries.com