Man claims he saw Robbie Williams on a UFO
Posted on Thursday, 19 November, 2020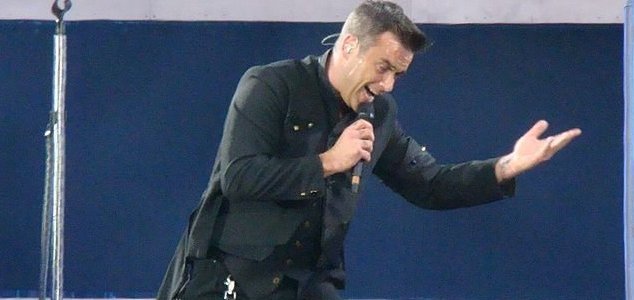 Was Robbie Williams sighted on a UFO in 1999 ? Image Credit: CC BY-2.0 vagueonthehow
A man from Bradford, England claims that he was once abducted by aliens and saw the singer aboard their ship.
55-year-old Russ Kellett, who gave up his career as a businessman to become a full-time UFO researcher, gained a keen interest in the phenomenon after being abducted by extraterrestrials.
The incident in question allegedly happened back in 1999 while he had been riding his motorbike to a friend's house near Druid's Altar in Bingley at around 10pm at night.
"I went through a tunnel and ended up in a room with tall, bald aliens," he said. "They had the looks of a human but were 10ft tall - that's not the norm, is it?"
"There were some smaller ones and they all looked the same."
After being sat down in a chair by the entities, he recalled being injected by something and then having a helmet placed on his head and a tube shoved into his mouth and down his throat.
Strangely, he also recalled being given a uniform and weapon as if he were some sort of soldier. It was then that he believes be encountered British singer and UFO enthusiast Robbie Williams.
"I am in a military unit - on a mission," he said. "He (Williams) is behind me. We had helmets on. I was ready to go on a mission. I looked at him. He must have been 'leader one'. I said 'don't I know you from somewhere?' Robbie Will....?'. An alien then shouted 'get back in line'."
"You do not mess with these dudes."
"This is happening to more people than you realize - but keep on watching television and the adverts."
Source: Examiner Live

https://www.unexplained-mysteries.com/news/340976/man-claims-he-saw-robbie-williams-on-a-ufo
Thanks to: https://www.unexplained-mysteries.com
https://youtu.be/luwAMFcc2f8