US Air Force base is guarded by robotic dogs
Posted on Monday, 23 November, 2020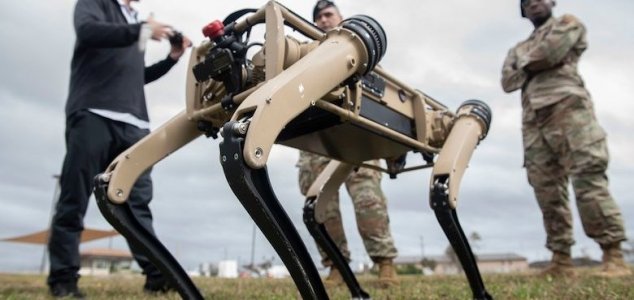 Image Credit: U.S. Air Force photo by Airman 1 st Class Tiffany Price
Tyndall Air Force Base in Florida is replacing human guard patrols with a new type of four-legged robot.
Situated 12 miles east of Panama City, the base, which is currently home to the 325th Security Forces Squadron, has been working together with Ghost Robotics to implement a new type of robotic dog that wouldn't look out of place in a science fiction movie.
The semi-autonomous canines will be tasked with patrolling and guarding the base which frees up personnel so that they can engage in more important training and security tasks.
"We are very excited," said Maj. Jordan Criss. "We are the first unit within the Department of Defense to use this technology for enhanced security patrolling operations."
"These robot dogs will be used as a force multiplier for enhanced situational awareness by patrolling areas that aren't desirable for human beings and vehicles."
"We will be able to drive them via a virtual-reality headset within our Base Defense Operations Center. We will be able to see exactly what the robot dog is detecting through its mobile camera and sensor platform if desired, we will also be able to issue verbal commands to a person or people through a radio attached to the dogs."
"These dogs will be an extra set of eyes and ears while computing large amounts of data at strategic locations throughout Tyndall Air Force Base. They will be a huge enhancement for our defenders and allow flexibility in the posting and response of our personnel."
You can check out a video of the robot dogs in action below.
https://youtu.be/X7q6zaNCxfo
https://www.unexplained-mysteries.com/news/341109/us-air-force-base-is-guarded-by-robotic-dogs
Thanks to: https://www.unexplained-mysteries.com