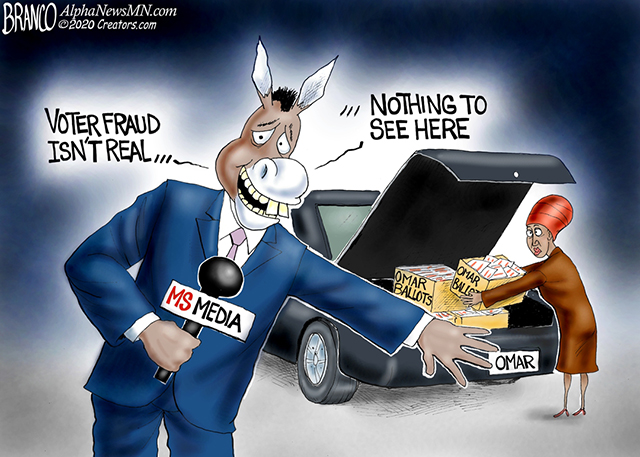 "Faulty upload" in Arizona gave Biden more than 6,000 of Trump's votes
11/26/2020 / By Ethan Huff
Another election "irregularity" has been discovered in Arizona, this time in the county of Greenlee where a "faulty upload," as they are calling it, resulted in about 6,000 votes for President Trump being incorrectly attributed to Joe Biden.
In the early morning hours of Nov. 24, unofficial results showed Biden and Trump separated by 10,377 votes. That later changed to a difference of just 4,202 votes, an error of 6,175 votes.
What happened is that Greenlee County, which only has 4,866 total registered voters, somehow showed a total of 22,110 votes cast in the 2020 election. This was later adjusted to the correct number of 3,723 votes.
Even so, the incorrect number was the first to be uploaded into the system, meaning it was used to declare Biden the winner of Arizona. Since the correction, Biden and Trump are almost even, which is significant.
With everything else that is being uncovered, it could be that Trump really did win the state of Arizona, though time will tell.
President Trump retweeted the news, only to have it "fact checked" by the media which, of course, has dubbed it as "false."
However, that same media is admitting that Biden has really only been declared the winner of Arizona "by
NBC News
," which just about covers it.
For more related news about the contested election, be sure to check out Trump.news.
Establishment politicians all rally around declaration that Biden "won" Arizona
Arizona Secretary of State Katie Hobbs will surely be of no help in rectifying the situation, seeing as how she hates President Trump and believes that anyone who voted for him is a "neo-Nazi."
As far as Hobbs is concerned, Biden won Arizona fair and square, at least as far as a Democrat understands either of those two concepts. Hobbs is reportedly standing by the claim that Biden won Arizona, and no amount of evidence to the contrary will convince her otherwise.
The state's governor, Doug Ducey, is also claiming that Biden "did win Arizona," adding that Arizona "is a good government state."
"I trust our election system," Ducey stated to a local media outlet, ignoring all emerging evidence pointing to voter fraud. "There's integrity in our election system."
Despite being an alleged Republican, Ducey could not care less that American patriots like Lin Wood and Sidney Powell are compiling mountains of evidence to suggest that Dominion Voting Systems and other election tools were hacked and rigged to steal the election for Biden.
Roughly a week ago, Ducey did seem to care, claiming that he would not recognize Biden's win in Arizona until after all associated lawsuits were resolved. He suddenly changed his tune, though, and is now insisting that Biden is the true winner.
"You have voting. You have tabulation. Then, you have certification at the county level," Ducey added.
"The next step is state certification. There's no reason at this point, with what's happening inside the legal system, that that wouldn't go forward. And that is my expectation."
Ducey did add the caveat that Biden's win predicated on a "10,300 vote margin, or approximately 0.3 percent." With what happened in Greenlee County, in other words, there is really no legitimate way to declare Biden the winner of Arizona based on this alleged razor-thin lead.
"They need to examine every single vote. Every single signature. Everything," wrote one Twitter user about the critical importance of getting this all right for the sake of our republic.
Team Trump is continuing to move forward with challenging this and other alleged Biden "victories" that all appear to have been predicated upon fraud and rigging. If you would like to help support Sidney Powell's efforts to hold the left accountable, you can do so by visiting her website.
Sources for this article include:
Twitter.com
[url=https://www.co.greenlee.az.us/pdf/2020 General Election Canvass.pdf]co.greenlee.az.us[/url]
12news.com
NaturalNews.com
AZCentral.com
https://glitch.news/2020-11-26-faulty-upload-arizona-biden-6000-trump-votes.html
Thanks to: https://glitch.news