GUY FIERI – RAISES 21.5 MILLION TO SAVE SMALL BUSINESS RESTAURANTS WHILE CONGRESS VACATIONS!
December 15, 2020 The Marshall Report
In just seven weeks, Food Network host Guy Fieri worked to raise more than $21.5 million dollars to help unemployed restaurant workers! Many are now praising him as having done more than Congress to help struggling restaurant employees during the last trying months. Many businesses are still suffering under tyrannical anti-constitutional Covid mandates that the Governors and Mayors have illegally imposed on the people while others have had to close permanently with no restitution.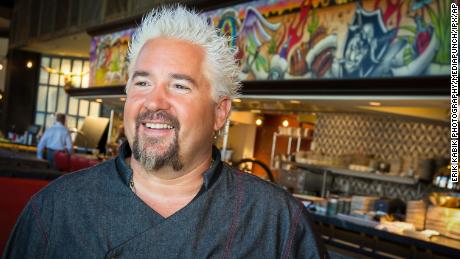 Guy Fieri, the TV host of 
Diners, Drive-Ins and Dives
, made personal pleas with large corporate sponsors, including PepsiCo, Uber Eats and Moët Hennessy USA, to support his Restaurant Employee Relief Fund. Fieri started the fund on March 27 as the COVID-19 pandemic was rapidly spreading through the U.S. and much of the world. The group has helped more than 43,000 restaurant workers "who have suffered financially due to the COVID-19 health and economic crisis," particularly through $500 grants to restaurant workers in every state.
Read more about Guy Fieri: Guy Fieri Raised $21.5M for Restaurant Workers, Praised for Doing 'More Than Congress' (newsweek.com)
We now know that Pelosi and her congress is NON-ESSENTIAL for America has survived an entire year without having them do anything for the people. The only thing she has been busy with is pushing her treason packages and coup to overthrow the United States Government while sticking it to WE THE PEOPLE. Last February she tore up the State of the Union Address and has worked tremendously hard ever since at tearing up the entire nation from sea to shining sea. She might as well have stood up and ripped the constitution in front of our face for she is doing it behind our backs. The do nothing congress has sat on their hands making sure no Cares Act Monies were released while Mad Max Governors and Mayors mandated tryannical lock downs and mandates forcing small businesses to close permanently. Those who have managed to survive have spent thousands of dollars on plandemic fake covid gear to reopen, only to be shut down repeatedly, then opened back up and then shut down again. Enough is enough. Many businesses like gyms and salons still aren't able to open.
So while the Pelosi led Congress has tied up Cares Act money and more or less said "let the people eat cake" while she licked her ice cream, Guy Fieri said, enough. Imagine where the nation would have been if Pelosi and her bang-a-langs had been working for the people instead of fighting to tear the nation apart?
The 
Restaurant Employee Relief Fund (RERF)
 is helping more than 43,000 restaurant workers who suffered financially due to the COVID-19 health and economic crisis. We also want to thank our partner and industry icon, Guy Fieri, and the more than 50 companies and organizations and 15,000 individual donors for making RERF possible. Together, we raised more than $21.5 million for RERF and showed the nation just how important restaurant workers are to our industry and the communities where we work and live. Find out more about the RERF here: Restaurant Employee Relief Fund (rerf.us)
Thank God for Americans like Guy who when they see the need come forward to do whatever they can to help in a time of crisis. I hope President Trump acknowledges this great American!
Dianne Marshall
https://themarshallreport.wordpress.com/2020/12/15/guy-fieri-raises-21-5-million-to-save-small-business-restaurants-while-congress-vacations/
Thanks to: https://themarshallreport.wordpress.com