Is the 'Black Knight' really an alien satellite ?
Posted on Thursday, 17 December, 2020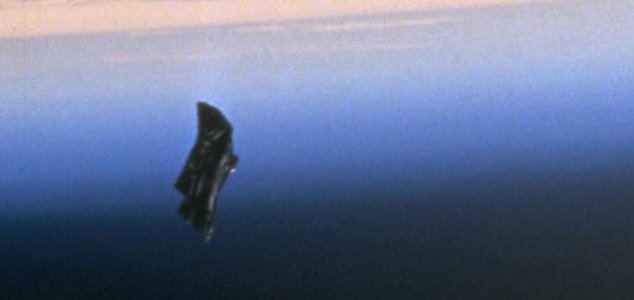 A photograph of the 'Black Knight'. Image Credit: NASA
For years, some have speculated that this unusual piece of space junk is actually an extraterrestrial device.
You've probably seen this photograph before (above) - a black, metallic chunk of some unidentified remnant of the space industry that was captured on camera by NASA back in 1998.
Officially, it is simply little more than a piece of space debris, but to many conspiracy theorists, the 'Black Knight' is in fact an extraterrestrial satellite that has been observing our planet for years.
Stories concerning the object have been 'retrospectively dated' as far back as the 19th Century to a repeating extraterrestrial radio source heard during Nikola Tesla's radio experiments.
While this signal has since been attributed to a pulsar - something that hadn't been identified at the time - there are still many who attribute it to the Black Knight satellite.
During the 20th Century, speculation over the possibility of an orbiting 'alien surveillance' platform received a further boost when astronaut Gordon Cooper reported seeing a UFO during his trip into space aboard the Mercury-Atlas 9 mission in 1963.
There had also been reports of the US Navy detecting a dark-colored spy satellite in 1960.
In more recent years, it has been suggested that the object photographed in 1998 was actually a 'thermal blanket' used to shield top secret US spy satellites from detection during the Cold War.
As things stand, there's really nothing to suggest that the object is anything but space debris, however this is unlikely to satisfy those who subscribe to the belief that it is something more.
Whatever the case, it's a conspiracy theory that's unlikely to disappear anytime soon.
Source: Popular Mechanics

https://www.unexplained-mysteries.com/news/341992/is-the-black-knight-really-an-alien-satellite
Thanks to: https://www.unexplained-mysteries.com