Mass UFO sighting reported over Hawaii
Posted on Sunday, 3 January, 2021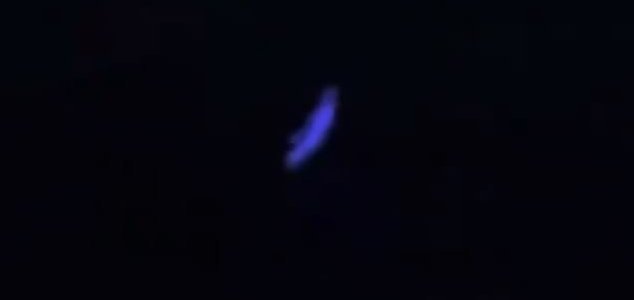 What is this object and where did it come from ? Image Credit: Twitter / Misitina Sape
Multiple witnesses last week reported seeing a bright blue object fall from the sky into the ocean.
The incident, which occurred on December 29th over the Hawaiian island of Oahu, started at around 8:30pm when several people observed a large blue glowing object lighting up the night sky.
One witness - a woman named Moriah - saw the object passing over the Princess Kahanu Estates. She described it as 'silent' and 'larger than a telephone pole'.
"I look up and then I was like oh s***!" she told
Hawaii News Now
.
"I started calling my husband and [his friends] because they were all in the garage. I was like hey, come look up there. See if you see what I see."
"They all said yea! I don't know what it was... This one was going so fast."
After the police arrived on the scene, she also spotted a second object - this time much smaller.
"My husband look[ed] up and he [saw] the white one coming," she said. "The white one was smaller. Was coming in the same direction as the blue one."
The incident was later reported by the police to the FAA (Federal Aviation Administration) because witnesses had seen the object falling into the ocean.
Acording to the FAA however, there were no "reports of overdue or missing aircraft."
As things stand, the nature of the unidentified object sighted that night remains a total mystery.
ShrimpZoo
@shrimpzoo
Blue UFO Spotted over Hawaii
6:47 PM · Jan 1, 2021
https://www.unexplained-mysteries.com/news/342630/mass-ufo-sighting-reported-over-hawaii
Thanks to: https://www.unexplained-mysteries.com