Harvard professor: 'Oumuamua was alien tech'
Posted on Tuesday, 5 January, 2021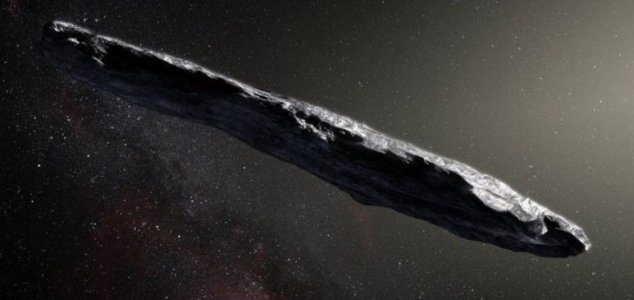 Loeb is convinced that 'Oumuamua is not what it seems. Image Credit: ESO / M. Kornmesser
A Harvard University professor of astronomy believes that the visiting space rock was actually built by aliens.
The 400-meter-long object, which flew past our planet back in October 2017, became the focus of much debate and intrigue after it was found to have come from a distant solar system.
Even today, the exact nature and origins of 'Oumuamua (from the Hawaiian word for 'scout') continue to remain a major point of study, with scientists attempting to determine exactly what the object is made of, where it came from and how long it has been traveling through space.
For professor of astronomy Avi Loeb of Harvard University however, the answer is clear - this unassuming space rock, he believes, is a piece of advanced extraterrestrial technology.
In a new book set to be published later this month (
Extraterrestrial: The First Sign of Intelligent Life Beyond Earth
), Loeb outlines the case for believing that 'Oumuamua is more than meets the eye.
"In late 2017, scientists at a Hawaiian observatory glimpsed an object soaring through our inner solar system, moving so quickly that it could only have come from another star,"
the press release reads.
"Avi Loeb, Harvard's top astronomer, showed it was not an asteroid; it was moving too fast along a strange orbit, and left no trail of gas or debris in its wake. There was only one conceivable explanation: the object was a piece of advanced technology created by a distant alien civilization."

"In Extraterrestrial, Loeb takes readers inside the thrilling story of the first interstellar visitor to be spotted in our solar system He outlines his controversial theory and its profound implications: for science, for religion, and for the future of our species and our planet."
Suffice to say however, this is not a theory shared by the majority of his peers.
Source: Chron.com

https://www.unexplained-mysteries.com/news/342623/harvard-professor-oumuamua-was-alien-tech
Thanks to: https://www.unexplained-mysteries.com