'Beast of Leeds' prints found in remote woods
Posted on Thursday, 14 January, 2021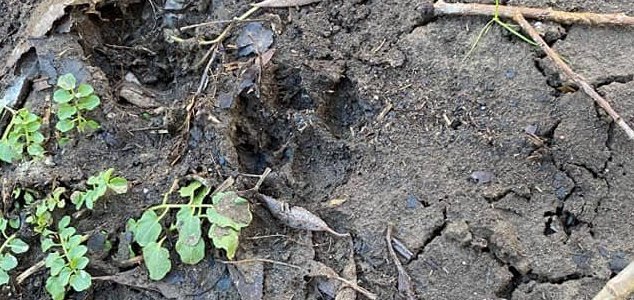 What animal does this print belong to ? Image Credit: Facebook / Ian John Platt
Two hunters have been seeking answers after finding unusual footprints in the remote English countryside.
Ian John Platt from the Yorkshire Outdoor Hunters group had been out geocaching with a friend in a secluded stretch of woodland in Leeds, England when they came across something strange - an unidentified set of tracks imprinted in the mud near the River Aire to the south-east of the city.
"We were out looking for a geocache spot close by which we located and has been documented by our Yorkshire Outdoor Hunters Group," said Platt's colleague, who wished to remain anonymous.
"Curiosity led us to the area where we spotted the tracks as we wondered where it led to. The exact location is difficult to access and we were not strictly allowed there."
"My first thoughts when I saw them was this is something big, I have seen deer and badgers in the same spot but deer tracks are easy to spot."
"I had never seen anything like these before hence why we asked if anyone could help identify."
The pair had intended to return to the spot to take accurate measurements of the prints and set up a trail camera, however the river level had risen too much and snow had blanketed the area.
You can check out the full set of photographs in the Facebook post -
here
.
Source: Leeds Live

https://www.unexplained-mysteries.com/news/342997/beast-of-leeds-prints-found-in-remote-woods
Thanks to: https://www.unexplained-mysteries.com