The bizarre 'UFO patents' of Dr Salvatore Pais
Posted on Wednesday, 27 January, 2021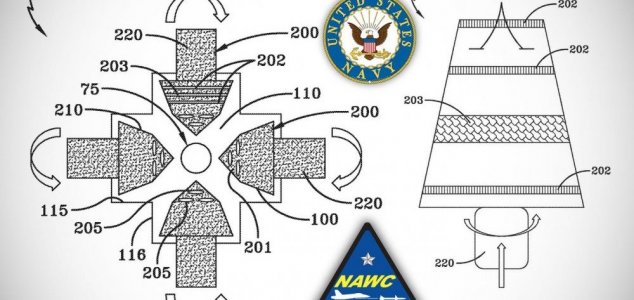 Dr Pais' patents are certainly unusual. Image Credit: US Navy
Over the years, the US Navy has invested large sums into the development of several 'out there' technologies.
Declassified documents obtained through the Freedom of Information Act have revealed that government agencies have been funding some very unique concepts, as evidenced by the plethora of documents released over the years detailing experiments carried out by the Naval Air Warfare Center Aircraft Division (NAWCAD).
These so-called 'UFO patents', as they have become known, are based on the work of aerospace engineer Dr. Salvatore Cezar Pais - a controversial figure with some very peculiar ideas.
One of these patents, which we covered back in 2019, was for a "hybrid aerospace-underwater craft" capable of unparalleled manoeuvrability both in the water and out of it.
There are also patents for a "high frequency gravitational wave generator", an "electromagnetic 'force field' generator", a "craft using an inertial mass reduction device" and even some form of compact nuclear fusion reactor - which would be a potentially revolutionary new energy source.
The most recently released documents, meanwhile, make reference to a "Spacetime Modification Weapon (SMW - a weapon that can make the Hydrogen bomb seem more like a firecracker)."
The basis for these technologies is something called "The High Energy Electromagnetic Field Generator (HEEMFG)" which works through what is known as the Pais Effect - a theoretical physics concept which works through the "controlled motion of electrically charged matter (from solid to plasma) via accelerated spin and/or accelerated vibration under rapid (yet smooth) acceleration-deceleration-acceleration transients."
While it is unclear whether or not any of these concepts were ever brought to fruition, it seems that the US Navy was interested enough to invest significant sums of money into investigating them.
Whether Dr Pais' work really is based on UFOs, however, remains open to debate.
Source: The Drive

https://www.unexplained-mysteries.com/news/343410/the-bizarre-ufo-patents-of-dr-salvatore-pais
Thanks to: https://www.unexplained-mysteries.com