Loeb: 'ET hates grass and thinks we're stupid'
Posted on Sunday, 7 February, 2021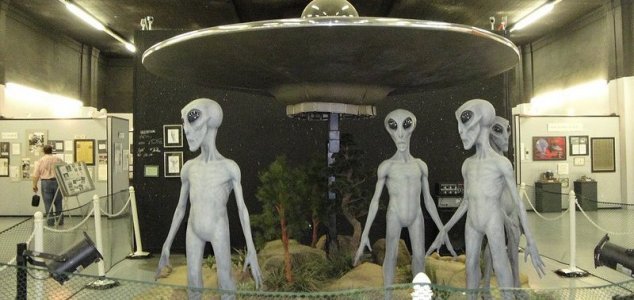 Are aliens deliberately staying away from us ? Image Credit: CC BY-SA 2.0 Jim Trottier
Astronomer Avi Loeb has spoken out on why he thinks intelligent aliens may not be visiting the Earth.
Loeb, who recently generated a lot of press due to his theory that interstellar visitor 'Oumuamua was built by extraterrestrials, has also been sharing his personal views on the topic of alien visitation.
In particular, he shared why he believed that the Earth would not be a popular destination for ET.
"The most common stars in the galaxy are dwarf stars," he told
The Daily Star
. "Most stars are about a tenth of the mass of the Sun and they are also twice cooler than the Sun so they are red."
"They emit mostly infrared radiation and if there is life on planets next to them... that life will have infrared eyes and the grass will not be green on those planets it will be dark red."
"So if you think about interstellar travel agents, they will not market the Earth as a desirable destination because for the infrared eyes of most of the creatures in the Milky Way the green grass is not particularly appealing, they want dark red grass so this could be an explanation for Fermi's Paradox why they don't come to visit us."
Loeb also believes that our (lack of) intelligence could be a contributing factor.
"It's possible that we are not that attractive and we are not very interesting in terms of our intelligence," he said. "For some reason humans do not cooperate and that's really unfortunate, and it's not a sign of intelligence so I can imagine a much smarter kid on the block."
What we should do, he argues, is set up UFO listening posts in areas with a lot of sightings.
"We should invest a relatively small sum of money, it will not cost much, in deploying the best instruments we have now in the same sites from where the reports came and monitor the environment for a long enough time," he said.
Given that he doesn't believe anyone would want to come here, however, such a suggestion seems somewhat contradictory.
Source: Lad Bible

https://www.unexplained-mysteries.com/news/343717/loeb-et-hates-grass-and-thinks-were-stupid
Thanks to: https://www.unexplained-mysteries.com