Two probes arrive at Mars mere hours apart
Posted on Thursday, 11 February, 2021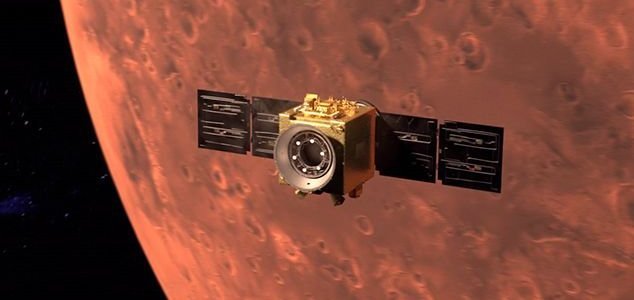 An artist's impression of the UAE's Hope spacecraft arriving at Mars. Image Credit: MBRSC
Space probes sent by China and the United Arab Emirates have both entered into orbit around Mars.
On February 9th, the UAE became the fifth nation to place a spacecraft into orbit around the Red Planet after its Hope orbiter arrived following a seven month journey through the solar system.
The probe is carrying three main instruments designed to study the planet's atmosphere and will investigate how neutral atoms of hydrogen and oxygen leak into space.
It will also capture some breathtaking new images of Mars from high above.
The probe wasn't the only one to arrive in orbit around the Red Planet this week - mere hours later on February 10th, China's Tianwen-1 (or 'Questions to Heaven') arrived safely as well.
This makes China the sixth spacefaring nation to successfully achieve such a feat.
Unlike the UAE probe however, Tianwen-1 will actually send a lander down to the surface of Mars and deploy a rover which will explore the area around the landing site.
If successful, it will make China the third nation to achieve a soft landing on Mars as well as the second to successfully operate a rover on its surface.
The mission is further evidence of China's ever-accelerating space program.
https://www.unexplained-mysteries.com/news/338270/two-probes-arrive-at-mars-mere-hours-apart
Thanks to: https://www.unexplained-mysteries.com