Mob destroys monolith over 'Illuminati' fears
Posted on Thursday, 18 February, 2021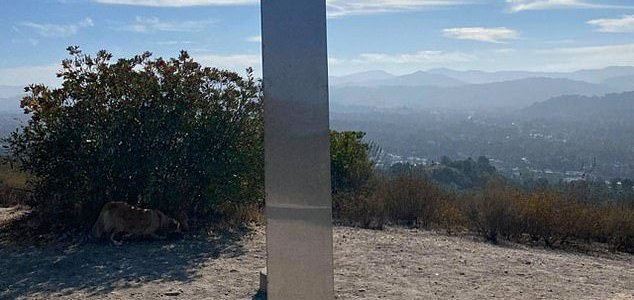 The monolith (see video below) is like those that appeared last year. Image Credit: Facebook / Ronelle Volk
A metallic monolith that appeared in the Democratic Republic of Congo has been torched by a mob.
The mysterious 12ft metal structure, which appeared on a roundabout in the capital city of Kinshasa at the weekend, immediately drew both concern and intrigue, with some locals turning out to take selfies and others expressing concerns over who or what had put it there.
So great was the paranoia surrounding the structure that by Wednesday a large mob had descended on the area. Armed with torches, they lit the monument on fire and started tearing it apart.
Some believed that the structure, which turned out to be comprised of an interior frame covered with thin metal sheets, had been placed there by a secret cabal or organization.
Some were even concerned that satanic worshippers or extraterrestrial visitors were responsible.
"We woke up and saw this metallic triangle," local resident Serge Ifulu told
Reuters.
"We were surprised because it is a triangle that we often see in documentaries about freemasons or illuminati."
Mayor Babylon Gaibene has since sent some of the material away to be scientifically analyzed.
It is currently unclear if the mysterious structure is connected to the 2020 phenomenon that saw dozens of mysterious monoliths appear at random places around the world.
At the time, art collective 'The Most Famous Artist' claimed responsibility for two monoliths in the United States and began selling replicas on its website for $45,000 a piece.
Others also appeared in Spain, Germany, Colombia, Belgium and the United Kingdom.
https://youtu.be/V3Ra06PJZIY
https://www.unexplained-mysteries.com/news/344014/mob-destroys-monolith-over-illuminati-fears
Thanks to: https://www.unexplained-mysteries.com