Facebook Blocks News, Government And Health Updates In Australia: 'An Assault On A Sovereign Nation'
Date: February 18, 2021Author: Nwo Report 
'Tech giants think they're bigger than government'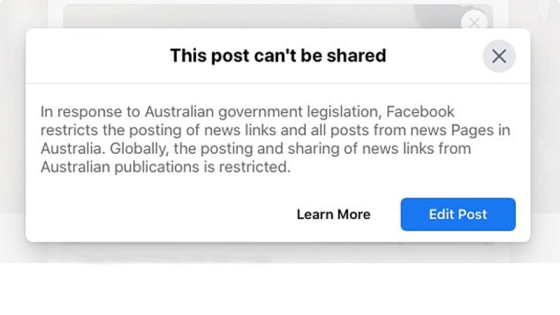 Source:
Steve Watson
The Prime Minister of Australia accused Facebook of believing it is 'bigger than the government' after the tech company blocked all news from its social media platform in the country before parliament debates whether it should be forced to pay for content produced by third party media outlets.
https://youtu.be/3N4fndqpvXI
Prime Minister Scott Morrison blasted Facebook and declared that big tech 'think…that the rules should not apply to them'.
Reports indicate that as well as blocking news, Facebook in Australia has prevented the sharing of some government information, including emergency services updates on Covid, fires, and help for victims of domestic violence.
Morrison noted that "Facebook's actions to unfriend Australia today, cutting off essential information services on health and emergency services, were as arrogant as they were disappointing."
"They may be changing the world, but that doesn't mean they run it," the PM urged, adding "We will not be intimidated by BigTech seeking to pressure our Parliament.
Speaking in Parliament, Health Minister Greg Hunt Described Facebook's actions as "an assault on a sovereign nation and an assault on peoples' freedom."
"Facebook has taken steps which are unprecedented and reprehensible, unacceptable in a democracy such as this and an abuse of their power," he said. 
https://www.dailymail.co.uk/embed/video/2358114.html
Communications Minister Paul Fletcher claimed that Facebook is desperately attempting to coerce the government into backing down on the new law.
"The code is not yet in the law, so it raises an obvious question, why are they doing this now?" Fletcher noted.
Agriculture Minister David Littleproud declared "The Australian people and its government will not be bullied by some big tech company that is putting people's lives at risk and putting profits ahead of people."
Former deputy prime minister Barnaby Joyce compared Mark Zuckerberg to Kim Jong-un, proclaiming "This is a North Korean policy agency being pursued by Facebook."
https://nworeport.me/2021/02/18/facebook-blocks-news-government-and-health-updates-in-australia-an-assault-on-a-sovereign-nation/
Thanks to: https://nworeport.me