TRIGGERED! Democrats Furious After Texas Gov. Lifts Mask Mandate
Date: March 3, 2021Author: Nwo Report  
T
he left can't stand relinquishing power over YOU!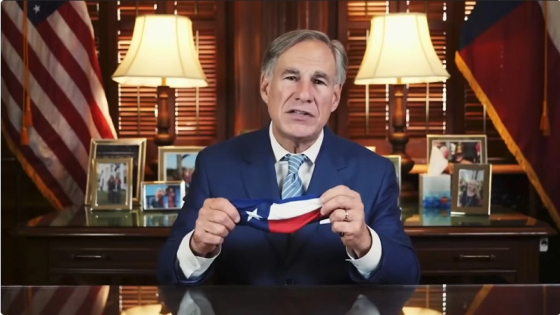 Source:
Adan Salazar
Democrats across the state of Texas let out a collective cry Tuesday after Gov. Greg Abbott (R) declared an end to statewide mask mandates.
Abbott issued an Executive Order announcing the end date for coronavirus restrictions as next Wednesday, March 10, prompting Democrats in liberal strongholds to accuse him of trying to spread coronavirus.
In Austin, Democrat Mayor Steve Adler led the charge pushing back against Abbott's order, begging him to help keep Lone Star State residents masked.
"We are urging @GovAbbott to keep the mask mandate in place," Adler pleaded. "Wearing masks keeps our businesses and schools safely open, decreases community spread of the virus and saves lives."
Democrat Harris County Judge Lina Hidalgo claimed Abbott was trying to cover up last month's energy grid crisis (which was largely exacerbated by US Energy Dept. green energy standards).
Democrat Houston Mayor Sylvester Turner also hit back at Abbott's order, saying he was "disgusted" with the move.
In Fort Bend County, Democrat County Judge KP George announced he would not be lifting the restriction in his county, accusing the governor of ignoring science.
"Since facial coverings were implemented, we experienced a major reduction in cases & hospitalizations," the judge wrote in a statement. "Science shows us that communities are freer and fare better when more citizens wear simple masks. In Fort Bend, we continue to listen to the doctors, facts, and the science."
Democrat San Antonio Mayor Ron Nirenberg claimed Abbott was making a "huge mistake" – assuming Texans can't care for their own health.
"Please join me in continuing to wear a mask," Nirenberg wrote.
Democrat Dallas County Judge Clay Jenkins insinuated Abbott's decision would lead to more Covid deaths, saying, "You should focus on what doctors, facts and science say is safe; not on what Gov. says is legal!"
Even Democrats outside of the state chimed in — over in California, Gov. Gavin Newsom (who's facing a recall over his coronavirus orders) described the move as "absolutely reckless."
But don't worry, masks aren't a political issue at all!,
MORE HERE: https://nworeport.me/2021/03/03/triggered-democrats-furious-after-texas-gov-lifts-mask-mandate/
Thanks to: https://nworeport.me