'Extinct' bird rediscovered after 170 years
Posted on Thursday, 4 March, 2021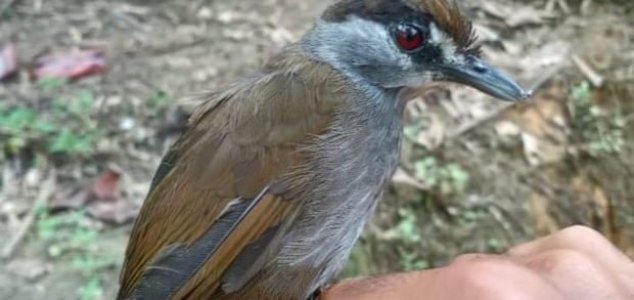 The species had remained hidden for almost two centuries. Image Credit: M. Suranto
An extremely rare bird that hadn't been seen in almost two centuries has turned up again in Indonesia.
Known as the black-browed babbler, this incredibly elusive resident of Borneo in Indonesia was first described in the late 1840s when a single specimen was collected.
This solitary bird would remain the only known example of the species for almost two centuries.
It wasn't until October of last year, when Muhammad Suranto and Muhammad Rizky Fauzan came across a strange bird in Indonesia's South Kalimantan province, that this would change.
They captured it, took photographs, then released it back into the forest.
"I was confused when we got the pictures, because it looked a bit like the Horsfield's babbler, but it didn't really fit," said bird-watching group member Joko Said Trisiyanto.
Believing the bird to be a perfect match for illustrations of the long lost black-browed babbler, he forwarded the images along to ornithologist Panji Gusti Akbar.
When Akbar received them, he could barely contain his excitement.
Before long, word of the discovery had been passed around the ornithological community.
"It took me a while to come to grips with this thing," said bird conservationist Ding Li Yong.
"I had a tear in my eye. This is a really big deal for Indonesian ornithology - as shocking as rediscovering the passenger pigeon or Carolina parakeet, but this is closer to home, a bird from the part of the world I live in."
It is now hoped that the bird's discovery will help to attract more visitors to the region.
"Bird watchers from all over the world have already started contacting me about the possibility of visiting and seeing this bird," said Akbar.
Source: New York Times

https://www.unexplained-mysteries.com/news/344356/extinct-bird-rediscovered-after-170-years
Thanks to: https://www.unexplained-mysteries.com