'Space hurricane' observed over the North Pole
Posted on Wednesday, 3 March, 2021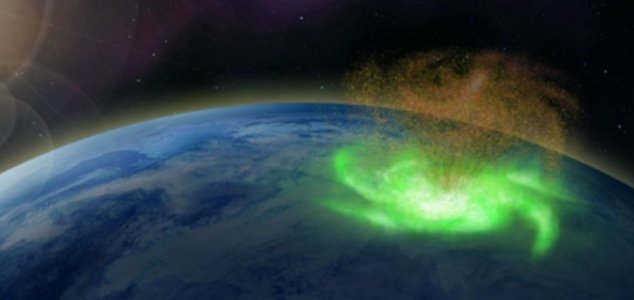 An artist's impression of the space hurricane. Image Credit: Shandong University / Qing-He Zhang
Scientists have, for the first time, detected a hurricane taking place in the Earth's upper atmosphere.
Hurricanes that form in our planet's lower atmosphere are both commonplace and well documented, but until now the idea of a hurricane forming in the Earth's upper atmosphere seemed more like a concept from a science-fiction movie than something that could actually happen in reality.
Nonetheless, a new analysis of data recorded on August 20th, 2014 by researchers from China's Shandong University has revealed the detection of what is being referred to as a 'space hurricane' which formed over the North Pole and extended over a region exceeding 1,000km in diameter.
Reaching from 110km to 860km in altitude, this remarkable atmospheric event was comprised mostly of plasma and consisted of several spiral arms which swirled in an anti-clockwise direction.
The center - or "eye" - of the hurricane remained still, just like in regular lower atmosphere hurricanes.
"Until now, it was uncertain that space plasma hurricanes even existed, so to prove this with such a striking observation is incredible," said physicist Mike Lockwood from the University of Reading.
"Tropical storms are associated with huge amounts of energy, and these space hurricanes must be created by unusually large and rapid transfer of solar wind energy and charged particles into the Earth's upper atmosphere."
It is believed that the same phenomenon is also likely to occur on other worlds as well.
"Plasma and magnetic fields in the atmosphere of planets exist throughout the universe, so the findings suggest space hurricanes should be a widespread phenomena," said Lockwood.
Source: Science Alert

https://www.unexplained-mysteries.com/news/344326/space-hurricane-observed-over-the-north-pole
Thanks to: https://www.unexplained-mysteries.com