ROTFL!!! WH Spox Says It Was 'Very Windy' When Joe Biden Fell on Air Force One Stairs
Date: March 20, 2021Author: Nwo Report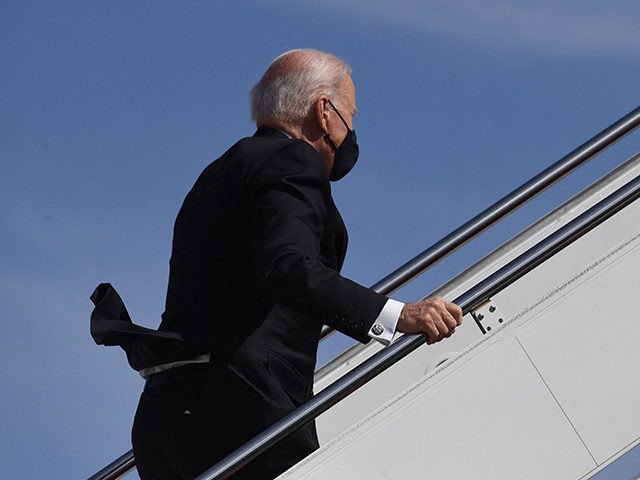 Source
: Joshua Caplan
White House Deputy Press Secretary Karine Jean-Pierre appears to have blamed windy conditions for Fake President Joe Biden's fall while climbing the stairs of Air Force One on Friday.
"It's pretty windy outside. It's very windy. I almost fell coming up the steps myself," Jean-Pierre told reporters aboard the president's plane, according to
New York Post
reporter Steven Nelson.
Biden "is doing 100 percent," she reportedly added.
Earlier Friday, the 78-year-old Biden slipped and fell upon ascending the steps of Air Force One at Joint Base Andrews, causing concern on social media about possible injury. 
Biden stumbled twice and then fell to his left knee as he made his way up the stairs. The president then pulled himself up and reached the top of the steps, and then turned around to give a salute. He then entered the plane for a scheduled visit to Atlanta, Georgia.
White House communications director Kate Bedingfield said Biden did not require medical attention due to the fall, calling the stumble, "Nothing more than a misstep on the stairs."
"I know folks have seen that President Biden slipped on his way up the stairs to AF1, but I'm happy to report that he is just fine and did not even require any attention from the medical team who travels with him," the White House aide said.
In December, then Fraudulent-president-elect Biden fractured his foot reportedly while playing with a dog following a shower.
"What happened was I got out of the shower. I got a dog. And anybody who's been around my house knows, dropped — the little pup dropped the ball in front of me, and for me to grab the ball. And I'm walking through this little alleyway to get to the bedroom," Biden recounted in an interview with CNN. "I grabbed the ball like this, and he ran, and I was joking, running after him to grab his tail. And what happened was that he slid on a throw rug, and I tripped on the rug he slid on. That's what happened."
A CT scan showed that Biden suffered several hairline fractures in his foot. The injury forced him to wear a walking boot for several days.
https://nworeport.me/2021/03/20/rotfl-wh-spox-says-it-was-very-windy-when-joe-biden-fell-on-air-force-one-stairs/
Thanks to: https://nworeport.me
https://youtu.be/Tf25_4Jex-4