Meteor creates loud 'sonic boom' over UK
Posted on Monday, 22 March, 2021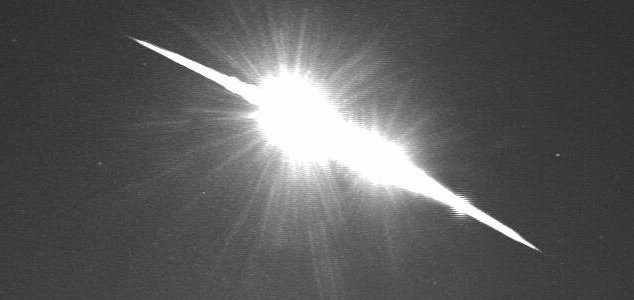 The meteor was picked up on camera. Image Credit: CC BY-SA 4.0 UK Meteor Network
Meteorologists have blamed a meteor for a loud booming noise that shook England's south-west at the weekend.
The news broke on Saturday afternoon that residents in Dorset, Somerset, Devon and Jersey had heard a loud 'sonic boom' that shook their windows and left many concerned and confused.
Initially the cause of the sound left authorities scratching their heads, with the RAF denying that any of its aircraft were responsible and the British Geological Survey reporting that there hadn't been an earthquake.
Very quickly however, photographs and videos of the culprit - a meteor that had streaked across the sky overhead - started to make their way on to social media.
The event has since been described by experts as 'extremely rare' because only the largest and brightest bolide class meteors are typically visible during daylights hours.
Actually locating any fragments that have hit the ground however will be a challenging task.
"Normally when you hear that it's a good sign that you have got rocks that have made it to the surface," said Dr Ashley King. "It's incredibly exciting and I'm a bit stunned."
Sonny Gammon
@sonnyboi08
Replying to @sonnyboi08 and @CarloPhoto71
UK meteor: 'Huge flash' as 'fireball' lights up skies 'like a giant firework' -
UK meteor: 'Huge flash' as 'fireball' lights up skies 'like a giant firework'
Around 120 people reported seeing the burning ball of space rock in the skies, which appeared to be visible across the UK.
news.sky.com
11:32 AM · Mar 22, 2021
https://www.unexplained-mysteries.com/news/344920/meteor-creates-loud-sonic-boom-over-uk
Thanks to: https://www.unexplained-mysteries.com