Breaking News: Professor Dolores Cahill, President Of The World Drs Alliance Announces That The World Health Authority (WHO) Has Stated That Covid19 Is Actually The Flu That Governments Have Labelled Covid19!! That There Is No Need For Masks, Isolation, Quarantining, Or Social Distancing, And It Cannot Transmit From One Patient To Another.
See: Indisputable Documented Proof That Covid 19 Is A Massive Hoax – A Manufactured Crisis To Usher In A New World Order Global Fascist State! https://wp.me/p19seq-9Sx
Your Governments Are Lying To You! All Government's Have Been Coopted By The Globalist Corporate Criminal Cabal. Covid19 Is A Hoax, Their Plan Is To Destroy The Global Economy, Lockdown The World So That You Cannot Make An Income, To Make You Totally Dependant For Your Income On Government. Then They Plan To Usher In An Orwellian New World Or Of Total Subjugation And Control Of Humanity
!
LINK TO VIDEO BELOW
https://www.minds.com/newsfeed/1224741950502023168
Firstly, In Response To A Freedom Of Information Request The National Health Service Of Britain States That There Were NO Deaths In The UK From Covid 19!!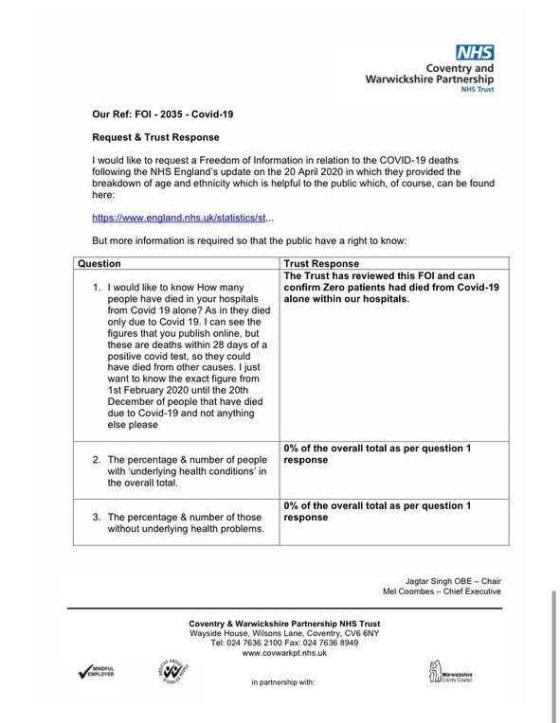 COVID 19 DOES NOT EXIST – IT HAS NEVER BEEN ISOLATED
 Covid19 Virus Has Never Been Isolated And Purified,Therefore, It Has Not Been Proven To Exist! You Cannot Test For A Virus That Does Not Exist. And You Also Cannot Manufacture A Vaccine For A Virus That Does Not Exist!! That Is The Extent Of This Blatant Scam! FOI (Freedom Of Information Act Requests To Health Authorities Have Proven That Covid19 DOES NOT EXIST! There Is No Scientific Evidence Anywhere That A Virus Causes Disease! Viruses Form Inside The Body, And Are Used To Clean The System. The Only Way An external infection, Virus Can Enter The Body Is Via Injection, It Is the Immune System Response To An Injected Virus, Such As Those Found In Vaccines That Cause The Immune System To Respond Adversely Causing Illness And Sometimes Death!  Wake Up World You're Being Scammed! See ( Covid 19 – The Fake Pandemic – Scientific Proof That It Is A Hoax – David Icke  https://wp.me/p19seq-7Vh
What The Covid Vaccine Really Is….A Pathogen That Will Be Used To Sicken, Control And Cull The Population!
ALL CLAIMS OF A COVID INFECTIOUS VIRUS SCIENTIFICALLY REFUTED: LINK BELOW
https://t.me/Corona_Investigative/105
Proof That The Pandemic Was Planned & With PurposeClick On The Headline Link Below (That States Proof That The Pandemic Was Planned & With Purpose) For The Full Report)Viruses Do Not Cause Disease There Is No Scientific Evidence Anywhere That A Virus Causes Disease! Viruses Form Inside The Body, And Are Used To Clean The System. The Only Way An external infection, Virus Can Enter The Body Is Via Injection, It Is the Immune System Response To An Injected Virus, Such As Those Found In Vaccines That Cause The Immune System To Respond Adversely Causing Illness And Sometimes Death! Again, The Glaring Truth To Remember Is….Germ Theory Is False. Viruses are Generated Within The Body, They Do Not Come From Outside The Body. Viruses Are Not Alive, Viruses Are Not Contagious. Viruses Cannot Be Transmitted Between People Or Transferred Between Species. – Dr Stefan Lanka – Virologist (See Breaking News: Virologist Blows The Whistle On Hoax Pandemic – Viruses CANNOT Be Transmitted – Dr Stefan Lanka) https://wp.me/p19seq-7RuIn Honour Of Kary Mullis The Nobel Prize Winning Scientist Who Stated That The PCR Test Could NOT Detect FreeForming Infectious Viruses! Dr Mullis Conveniently Passed Away Just Prior To the Release Of The Hoax Pandemic!
https://youtu.be/W_MpYRDmPQcMORE HERE https://darrellhines.net/2021/04/04/breaking-news-professor-dolores-cahill-president-of-the-world-drs-alliance-announces-that-the-world-health-authority-who-has-stated-that-covid19-is-actually-the-flu-that-governments-have-labelled/Thanks to: https://darrellhines.net