Georgia Secretary of State Brad Raffensperger's Office Defends Payout of Over $5 Million from Facebook-Linked Group for Election Infrastructure
Date: April 20, 2021Author: Nwo Report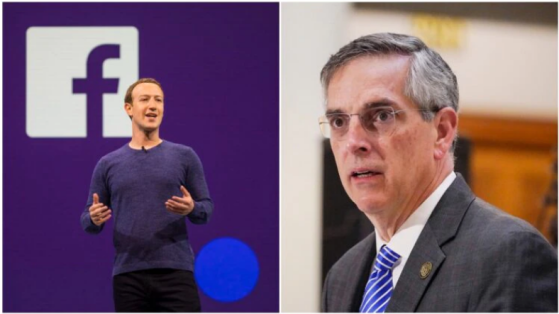 Source:
Shane Trejo
The office of Georgia Secretary of State Brad Raffensperger is defending the payout of over $5 million from a group backed by Facebook CEO Mark Zuckerberg to fund election infrastructure in the state.
The Washington, D.C.-based Center for Election Innovation and Research (CEIR) donated almost $5.6 million to the Georgia Secretary of State's office. They apparently received a tremendous return on their investment as Raffensperger did nothing except obstruct after the suspicious results were reported from polling centers manned by Democrats who were captured on video tape violating election law.
Raffensperger's spokesman Walter Jones boasted in an email comment for
Georgia Star News
that Zuckerberg's money has given them the ability to crush dissent calling for investigations into election fraud.
"Any grant or funding source, as allowed by Georgia law, has enabled this and local elections offices to combat disinformation similar to recent articles published by this outlet that undermine the confidence of Georgia voters," Jones said.
In addition to bankrolling the elections' process in Georgia, the CEIR also spent $13 million in Pennsylvania, $11 million in Michigan, $5.6 million in Georgia, and $4 million in Arizona. These are all states where vote counting was mysteriously paused after Trump had garnered a seemingly insurmountable lead. When the vote counting resumed, poll challengers were disenfranchised and hundreds of thousands of mysterious ballots that arrived at the dead of night flipped the election toward Biden.
In addition to paying off various secretaries of state to help induce compliance, Zuckerberg's social media platform also censored news about Biden's son Hunter to protect his presidential chances despite the fact that the news was true.
Big League Politics
reported on the efforts of Sen. Josh Hawley (R-MO) to hold Facebook accountable before the 2020 presidential election:
"
Sen. Josh Hawley (R-MO) is calling for an investigation after a Facebook executive announced earlier today that the platform would be egregiously censoring a report detailing Hunter Biden's leaked emails…Hawley was responding to a shocking post from Facebook Communications Director Andy Stone, a veteran Democrat operative before being hired by the social media giant, who announced publicly that the report would be censored regardless of its accuracy…The explosive report, which was initially published in the New York Post, detailed Hunter Biden's drug-fueled cronyism. The emails showed how Hunter Biden introduced his father Joe, who was vice president at the time, to Ukrainian Burisma advisor Vadym Pozharskyi. This contradicts claims made by the Biden campaign that Joe and his troubled son never talked business while he was vice president."The seemingly selective nature of this public intervention suggests partiality on the part of Facebook," Hawley wrote in a letter addressed to Facebook founder and CEO Mark Zuckerberg."And your efforts to suppress the distribution of content revealing potentially unethical activity by a candidate for president raises a number of additional questions, to which I expect responses immediately," he continued."Isn't such a public intervention itself a reflection of Facebook's assessment of a news report's credibility?" Hawley asked…"The New York Post previously reported that employees of the six largest Silicon Valley tech firms – including Facebook – have donated nearly $5 million to the Biden-Harris campaign, compared to just $239,000 to President Trump's campaign. What steps has Facebook taken to ensure that your employees' political preferences don't influence decisions to suppress content?" Howley added
."
The 2020 vote steal may be the worst election crime in history and, combined with the anti-white Black Lives Matter pogroms and COVID-19 lockdown hysteria, shows how diabolical and all-powerful the globalists truly are. They will either be stopped or our civilization will be destroyed.
https://nworeport.me/2021/04/20/georgia-secretary-of-state-brad-raffenspergers-office-defends-payout-of-over-5-million-from-facebook-linked-group-for-election-infrastructure/
Thanks to: https://nworeport.me