Extent Of Toxic DDT Dumping Off Los Angeles Coast Is 'Staggering'
Published: April 29, 2021
A new report from the Scripps Institution of Oceanography in California found a massive graveyard at the bottom of the seafloor between Santa Catalina Island and Los Angeles of a toxic chemical known as dichlorodiphenyltrichloroethane (DDT).
Scientists used underwater drones with sonar technology to map out 36,000 acres of the seafloor between Santa Catalina Island and Los Angeles, where they found at least 27,000 barrels of DDT and an excess of 100,000 total debris objects. 
This area has previously been known as a dumpsite for the industrial complex in Southern California, but the scientist uncovered the true extent of the massive underwater toxic waste zone dating back to World War II in March.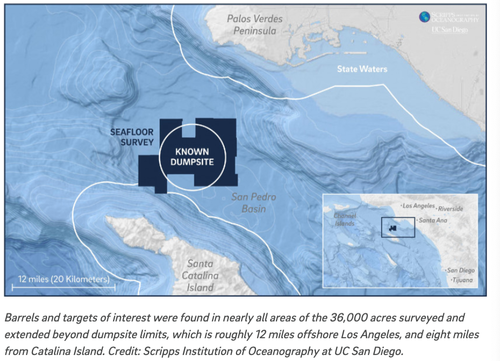 Images like this one show barrel-like objects containing the dangerous insecticide reside just 3,000 feet below the water's surface.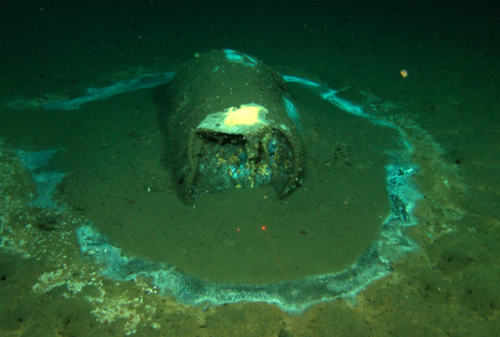 The survey provides "a wide-area map" of where the barrels are resting.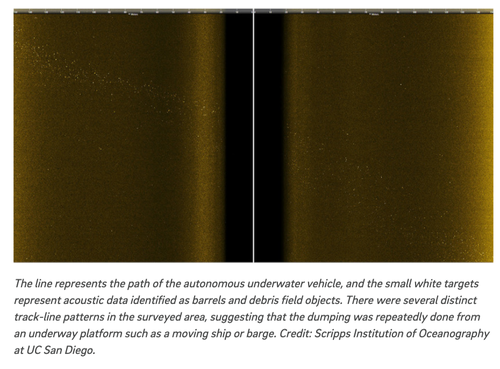 For our millennial readers who weren't around during the days of DDT over half a century ago, the 'miracle' pesticide was used against malaria and banned in 1972 after it was linked to cancer and severely damaged ecosystems. 
Research from Scripps found traces of DDT after decades of barrels sitting at the bottom of the sea. 
"Unfortunately, the basin offshore Los Angeles had been a dumping ground for industrial waste for several decades, beginning in the 1930s. We found an extensive debris field in the wide-area survey," said Eric Terrill, chief scientist of the expedition and director of the Marine Physical Laboratory at Scripps Institution of Oceanography. "Now that we've mapped this area at very high resolution, we are hopeful the data will inform the development of strategies to address potential impacts from the dumping."
UC Santa Barbara professor David Valentin first discovered the concentrated accumulations of DDT in the area about a decade ago. He visually confirmed 60 barrels on the seafloor. Over the years, scientists have found high DDT levels in marine mammals, including dolphins and sea lions. Such exposure has been linked to the development of cancer in marine life. 
Decades ago, the Southern California industry got away with dumping whatever they wanted offshore. The question now is who will pay for the cleanup?
https://www.blacklistednews.com/article/79803/extent-of-toxic-ddt-dumping-off-los-angeles-coast-is.html
Thanks to: https://www.blacklistednews.com