Oregon Senator's Wife and 19-Year-Old College Student Among Latest Victims DEAD Following Bioweapon COVID-19 Shots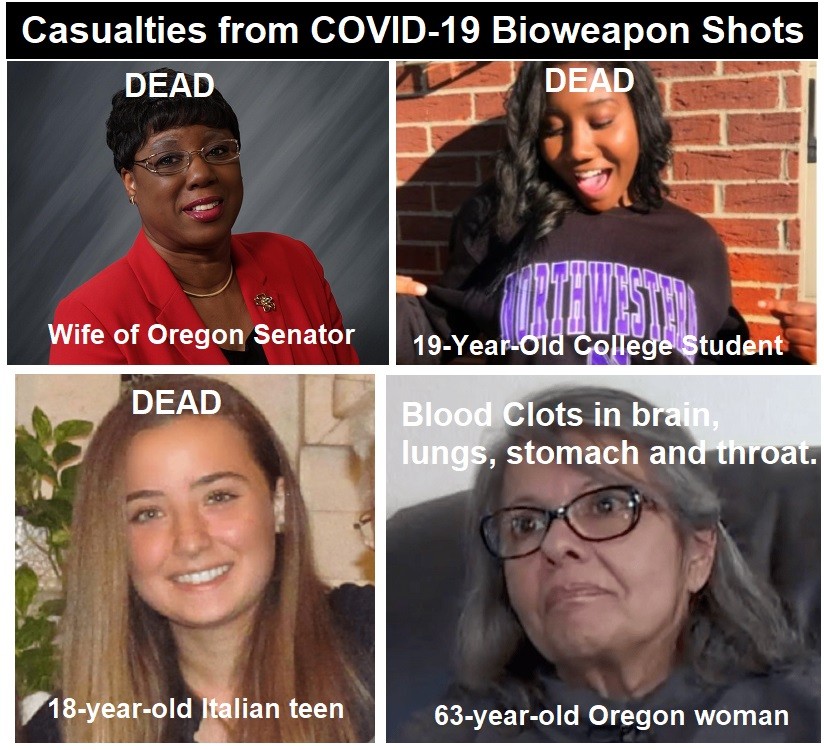 Comments by Brian ShilhavyEditor, Health Impact News
Tragic stories continue to come documenting the horrific loss of life and crippling effects of the COVID-19 shots, which many medical doctors and scientists are now calling "bioweapons."
Most of these are simply statistics reported to VAERS, where they may or may not be recorded by the CDC, but to their families, they are a tragic loss of life, and we will continue to put names and faces on these "statistics" of unnecessary deaths and crippling injuries following these bioweapon injections developed by eugenicists that cannot even legally be called "vaccines."
In today's round-up, we bring you the news of three deaths, including the wife of an Oregon Senator, a young 19-year-old college student from Northwestern University, and an 18-year-old Italian teen whose death prompted Italy to suspend the AstraZeneca injections to those under the age of 60. Another Oregon woman has suffered blood clots in her brain, lungs, stomach, and throat, and is afraid to go to sleep at night.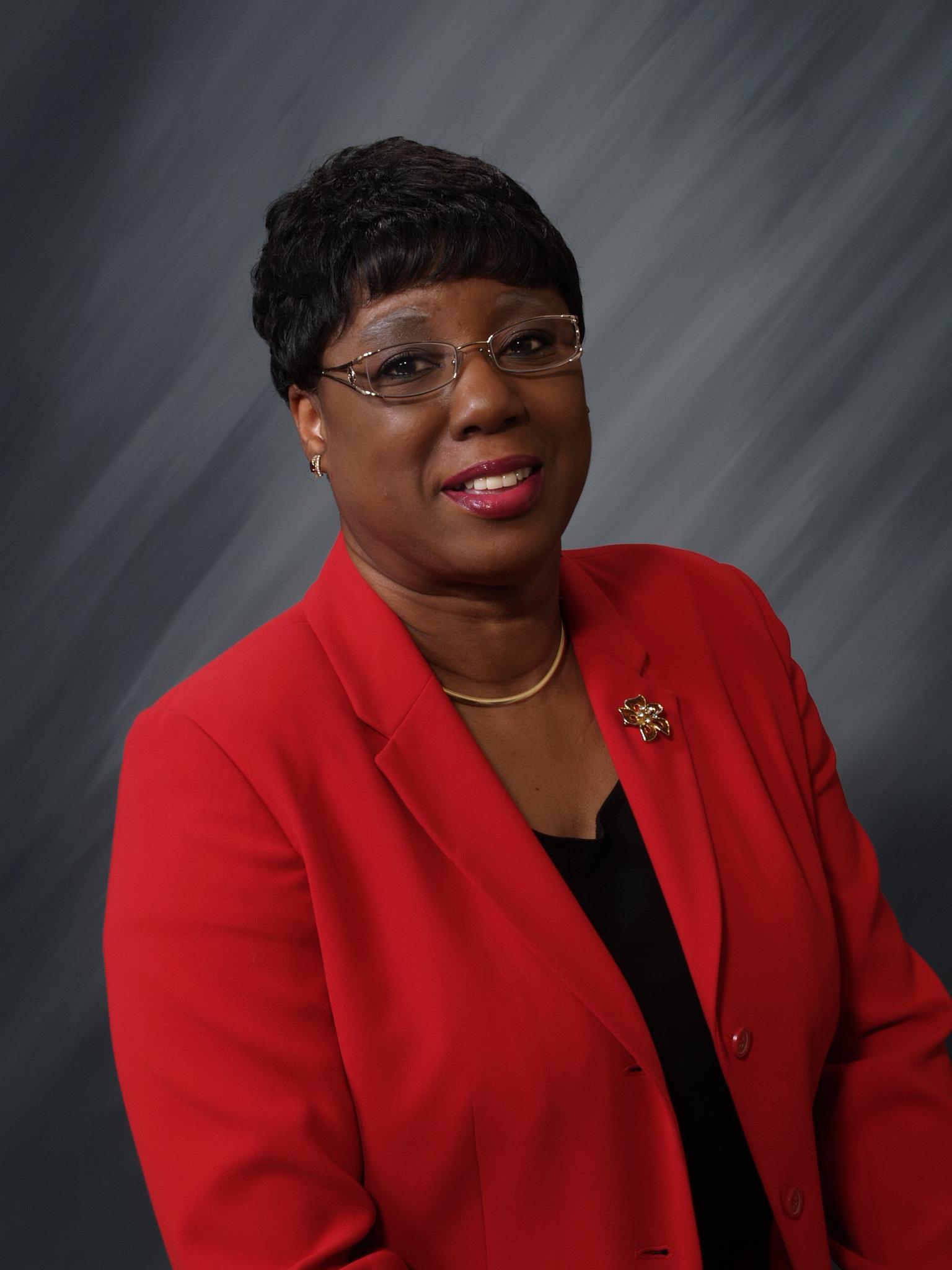 Lawanda Manning. Image from Facebook.
Lawanda Manning, Wife of Oregon Senator James Manning, Jr. Dies Less than Two Months After Receiving COVID-19 Shot
by
Brian ShilhavyEditor, Health Impact News
A
Health Impact News
reader has alerted us to the death of Lawanda Manning, the wife of Oregon Senator James Manning, Jr.
She reportedly died on June 11, 2021, and was "fully vaccinated" with a COVID-19 shot on April 16th, according to a photo of her and her husband posted on Instagram.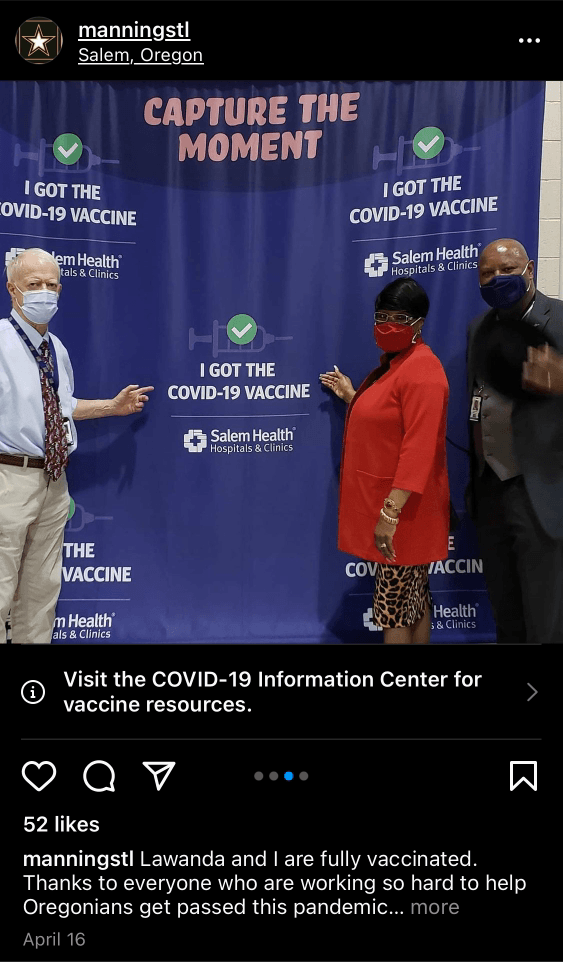 Senator James Manning, Jr. announced her death on his Facebook page on June 12th.
She was apparently well-loved among Oregon politicians, many of whom paid tribute to her life, although no mention of her receiving a COVID-19 injection could be found in any of the news stories that I read.
Lawanda Manning, wife and legislative aide of state Sen. James Manning, died on Friday, June 11.
Oregon Senate President Peter Courtney announced Lawanda Manning's death in an email Friday. Courtney said, "the Oregon State Capitol lost one of its kindest souls."
"Lawanda was full of love, laughter and joy. Wherever she went, she lit up the room and brought smiles to faces. Generous and full of compassion, she always looked for ways to make life better for others," Courtney said in the email.
"Lawanda was an incredible woman, wife and friend. My heart goes out to her husband, James. She was his rock. They shared a strong bond. She will be missed."
Sen. Manning, a Democrat, represents Oregon Senate District 7, which includes north Eugene, west Eugene, Santa Clara and Junction City. Lawanda Manning served as his legislative assistant, an administrative support and constituent-facing position
Eugene Mayor Lucy Vinis said Lawanda Manning was an important booster for civic and social issues in the local community. Vinis said her many contributions will be missed.
The Oregon Legislative Black, Indigenous and People of Color (BIPOC) Caucus in a statement said "Miss Lawanda" "was her husband's rock and a mentor to all; a bright light to many staff, legislative members, and their families."
"She was not a woman who worked behind the scenes. She led out front as a leader in the community, chairing the Oregon Commission on Black Affairs, helping to usher in a historic wave of progress in the arena of civil rights and social justice," the statement read. "Her legacy is built upon her steadfast devotion to progress, and the unwavering love she gave to the many lives she touched. Miss Lawanda is irreplaceable and will be deeply missed."
"She was such a lovely human being. She was so deeply committed to our community. She was so intelligent and insightful, and was just a pleasure to work with and a pleasure to know. It is a loss to our community and to our state," Vinis said.
MORE HERE: https://vaccineimpact.com/2021/oregon-senators-wife-and-19-year-old-college-student-among-latest-victims-dead-following-bioweapon-covid-19-shots/
Thanks to: https://vaccineimpact.com