Dubai creates its own rain to beat the heat
Posted on Wednesday, 21 July, 2021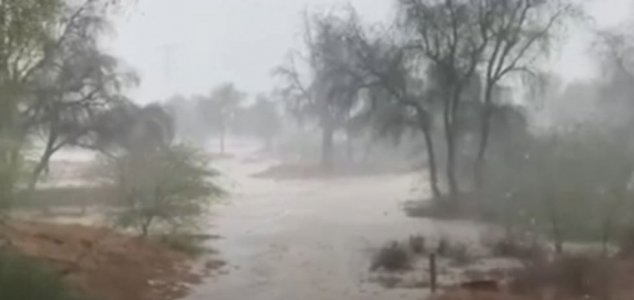 The rain was extremely heavy in some areas. Image Credit: National Center of Meteorology
The city has taken the weather into its own hands by using drones to stimulate clouds into producing rain.
If you had been driving along the highway in the United Arab Emirates recently, you would have likely run into torrential downpours not dissimilar to those typically seen during a monsoon season.
In a part of the world known for its arid climate and 120F summer heat, however, such a weather phenomenon is highly unusual - and that's because it wasn't supposed to be happening at all.
According to the UAE's National Center of Meteorology, these anomalous downpours were produced by cloud seeding operations designed to increase the amount of rainfall in the region.
To achieve this, special drones were sent up to unleash electrical charges which caused the clouds to clump together and form precipitation that would not have otherwise occurred.
The technique - which was pioneered by scientists at the University of Reading in England - is one of several rain-making solutions that the UAE invested $15 million to develop back in 2017.
Footage of the extreme downpours has since been broadcast on the country's news networks.
There was so much rain, in fact, that it made driving conditions in some areas hazardous.
Whether this will impact the natural weather cycle moving forward however remains unclear.
https://youtu.be/IRbnGy32gz0
https://www.unexplained-mysteries.com/news/349029/dubai-creates-its-own-rain-to-beat-the-heat
Thanks to: https://www.unexplained-mysteries.com