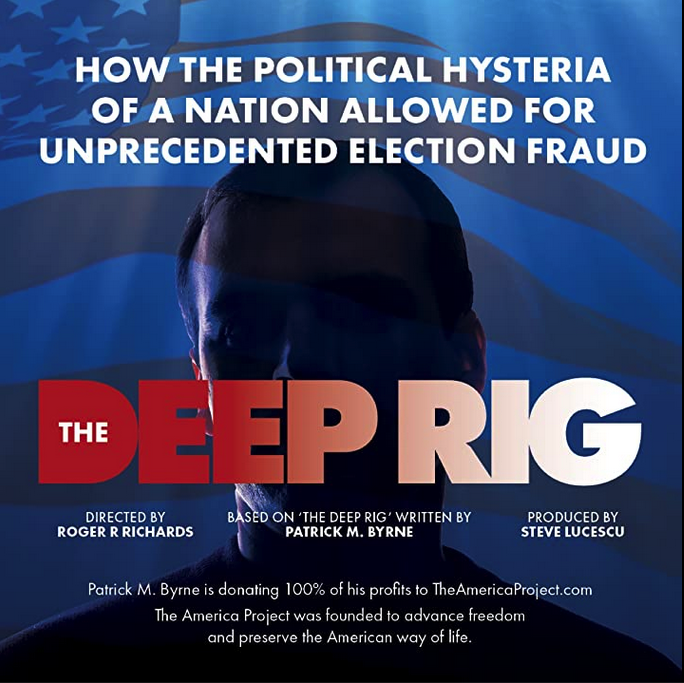 The Deep Rig - Full Film (Free 12-hr Screening Starts at 8PM EDT!)
Watch 'The Deep Rig' for FREE!
https://deeprigmovie.online/ViewMovie/2b743875-7143-4f4a-bf3c-0b8a5355d7ce
You have until 8PM Eastern on Sunday to watch this film, written and produced by Libertarian, entrepreneur, Founder/Ex-CEO of Overstock.com and Founder of the America Project, Patrick Byrne and starring Lt Gen Michael Flynn, Donald Trump, Bernie Sanders, Bobby Piton and Phil Waldron and more.
Byrne is a libertarian who did not vote for Trump and has publicly criticized him: that said, he believes Election 2020 was rigged, and that should be objectionable to every person who believes, "just government derives its power from the consent of the governed." In this book he explains what caused him in August 2020 to study election fraud, and what really happened during the 2020 election. He describes how his team of "cyber-ninjas" unraveled it while they worked against the clock of Constitutional processes, all against the background of being a lifetime entrepreneur trying to interact with Washington, DC.
Follow the team of Patriots, Lawyers and 'White Hat' Hackers, determined to reveal the facts behind the headlines, to backroom scenes and through electronic networks designed to rig any election they conduct.
Scrutinize for yourself the evidence which paints a portrait of Washington's double-dealings and international intrigue.
Running Time: 107 mins