NASA reveals revised risk of Bennu collision
Posted on Thursday, 12 August, 2021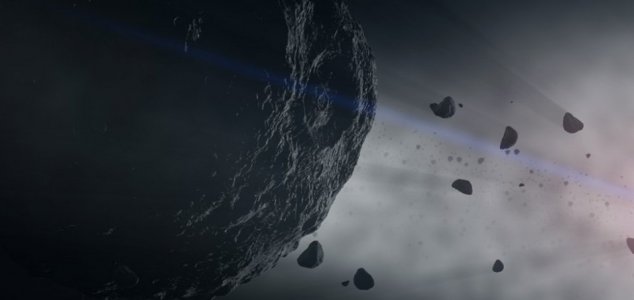 Bennu is coming, but will it hit us ? Image Credit: NASA Goddard Conceptual Image Lab
At a news conference yesterday, the space agency revealed how likely it is that the asteroid will hit us.
When it comes to disaster scenarios, there are none quite as terrifying as the prospect of a gigantic asteroid hurtling into the Earth, causing untold devastation and wiping out human civilization.
This isn't a scenario limited to the movies either - it has happened multiple times throughout Earth's history, resulting in major extinction events such as the one that killed the dinosaurs.
As things stand, it is not a question of if it will happen again, but when.
One of the most disconcerting asteroids we currently know about is Bennu - a huge space rock measuring 200 meters across that has the potential to collide with the Earth in the near future.
Now according to NASA, the current data suggests that Bennu has a 1 in 1,750 chance of colliding with the Earth within the next 300 years - a slight increase on previous estimates.
The highest risk will come during a near-miss on September 24th, 2182.
While this might not sound particularly reassuring, these odds are still pretty small, leading NASA scientists to conclude that it is highly unlikely that we will need to take any action.
"In 2135, asteroid Bennu will make a close approach with Earth. Although the near-Earth object will not pose a danger to our planet at that time, scientists must understand Bennu's exact trajectory during that encounter in order to predict how Earth's gravity will alter the asteroid's path around the sun - and affect the hazard of [future] Earth impact," NASA said in a statement.
"Using NASA's Deep Space Network and state-of-the-art computer models, scientists were able to significantly shrink uncertainties in Bennu's orbit, determining its total impact probability through the year 2300 is about 1 in 1,750 (or 0.057%). The researchers were also able to identify Sept. 24, 2182, as the most significant single date in terms of a potential impact, with an impact probability of 1 in 2,700 (or about 0.037%)."
Source: EarthSky.org

https://www.unexplained-mysteries.com/news/349712/nasa-reveals-revised-risk-of-bennu-collision
Thanks to: https://www.unexplained-mysteries.com