Watch: UK Covid Vaccine Protestors Storm TV Studio Headquarters
Date: August 24, 2021Author: Nwo Report   
'They're coming for our children,' one protester was heard shouting.
Source:
Nworeport
Over 200 activists stormed the ITV News and Channel 4 News broadcasting headquarters in London reportedly protesting vaccine passports and mandatory vaccines for children.
The chaotic incident happened Monday, with protesters filling up the lobbies of the network stations and angrily demanding for their voices to be heard.

Gillian McKeith
@GillianMcKeith
Chaos at ITV News London as citizens accuse the broadcaster of not doing more to highlight the 'you know what' jab passports as well as not supporting the issue of children placed under pressure to be jabbed. #NoVaccinePassportsAnywhere #london #august23
9:32 AM · Aug 23, 2021
According to the
Daily Mail
, the group's ringleader Pat Wilson had a list of demands which included, "A weekly live debate with two representatives aired on mainstream networks discussing all aspects of the novel coronavirus," and "A weekly list on air with updates from the yellow card reporting scheme."
In response, ITN released a statement claiming the protesters "abused" their reporters.
"News organisations have provided a vital source of information during the pandemic," an ITN spokesperson said.
"The abuse of journalists because of their reporting on coronavirus is a worrying development which ITN has been closely monitoring and actively ensuring staff are aware of precautions to avoid coming to any harm.
"This action resulted in journalists being prevented from being able to go about their newsgathering activities, something that ITN strongly condemns."
After leaving the TV studios, the protesters headed to Google headquarters in London.

Paul Brown  Browns fan London News Vlogger
@PaulBrown_UK
Anti covid vaccine protesters now trying to get in to the Google Headquarters at Pancras Square, London - Police are stopping the protest getting inside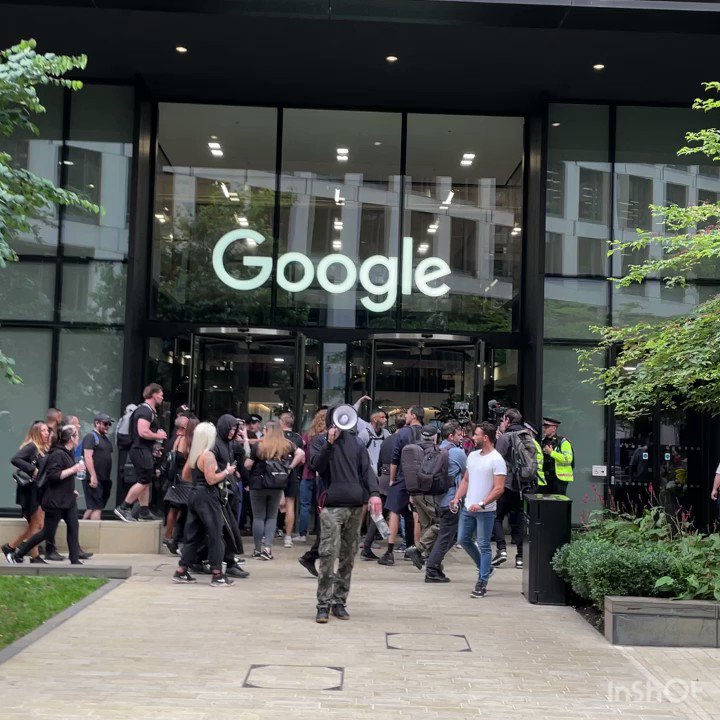 9:39 AM · Aug 23, 2021
WATCH VIDEOS HERE: https://nworeport.me/2021/08/24/watch-uk-covid-vaccine-protestors-storm-tv-studio-headquarters/
Thanks to: https://nworeport.me