Mystery cube points to Nazi nuclear program
Posted on Wednesday, 25 August, 2021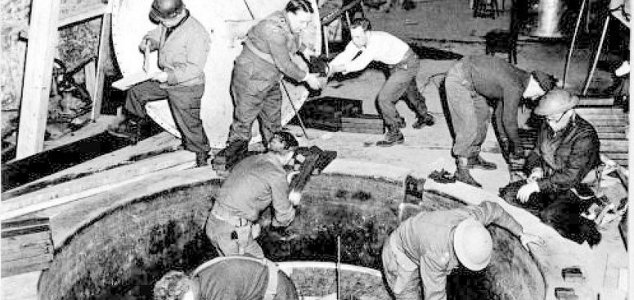 The Allies dismantle the German experimental nuclear pile at Haigerloch. Image Credit: Public Domain
Scientists are close to proving that a cube of uranium was part of Germany's secret WWII nuclear program.
While it was ultimately the United States that succeeded in developing and deploying the world's first atomic bomb, long before the end of World War II the Nazis had been working on their own equivalent program in the hope of using nuclear weapons to claim victory over the Allies.
One of the few surviving relics from this era is what is known as a 'Heisenberg cube' - a block of uranium held at the Pacific Northwest National Laboratory (PNNL) that has long been suspected of being a relic from Germany's nuclear program and has been the subject of study for decades.
Now scientists are close to proving the link between the cube and the program while also offering new insight into the nuclear arms race between the United States and Germany.
"The first part of the research was actually to gather as much information as possible," Oregon State University's Brittany Robertson told
Vice
. "In order to really do nuclear forensics, you need to have some measurements identified that can draw insight into what you're trying to prove."
"In order to have that insight, we had to do a whole lot of reading, both from the history perspective, but also from some of the documents that came out of declassification, or letters getting released and digitized that were exchanged between scientists."
To determine whether the cube really was part of the Nazi nuclear program, researchers conducted radiochrometric dating on it and found that its age was consistent with the expected time period.
Additional efforts are now underway to confirm which German laboratory the cube may have come from as well as to track down specifically where the uranium ore itself originated.
"This is one of the cruxes of my PhD research, and what I really am excited to contribute to the field - to try to examine the geological origin of the material," said Robertson.
"What uranium ore body in the world did Germany, allegedly, get their uranium from?"
Source: Vice.com

https://www.unexplained-mysteries.com/news/350090/mystery-cube-points-to-nazi-nuclear-program
Thanks to: https://www.unexplained-mysteries.com