Clashes & arrests in Sydney, Melbourne as anti-lockdown protesters defy Australian police pledge to unleash 'full force'
Posted on August 31, 2021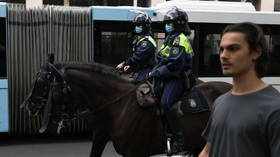 RT
Heated protests erupted in Sydney and Melbourne as massive crowds took to the streets to decry ongoing lockdown measures, seeing clashes with Australian police, who responded with pepper spray, roadblocks and a string of arrests.
The demonstrations broke out on Saturday afternoon in the two major cities, with groups estimated in the hundreds protesting coronavirus lockdowns and curfew orders, chanting slogans and hoisting signs against the country's Covid regime.
Rachael Dexter
@rachael_dexter
Thousands of protesters in Melbourne. @theage
9:44 PM · Aug 20, 2021
Footage making the rounds online showed crowds making their way through Melbourne, at some points clashing with a heavy police presence deployed to block the march. Pepper spray was unleashed on the demonstrators in response.
[…]
The demos come soon after officials in New South Wales announced an extended Covid lockdown on Friday, set to put nearly half of Sydney's 5 million residents under a nightly curfew until mid-September. A similar order is already in place in Melbourne, meaning more than a quarter of Australia's population will remain under lockdown restrictions, which require residents to stay at home with a few exceptions.
[…]
Via https://www.rt.com/news/532690-australia-lockdown-protest-clashes-arrests/
MORE HERE: https://stuartbramhall.wordpress.com/2021/08/31/clashes-arrests-in-sydney-melbourne-as-anti-lockdown-protesters-defy-australian-police-pledge-to-unleash-full-force/
Thanks to: https://stuartbramhall.wordpress.com