America Reaches A Perilous Crossroads As Even The Mainstream Media Warns: 'The World Is Short Of Everything - Get Used To It'
- More Empty Store Shelf Pics Sent In By ANP Readers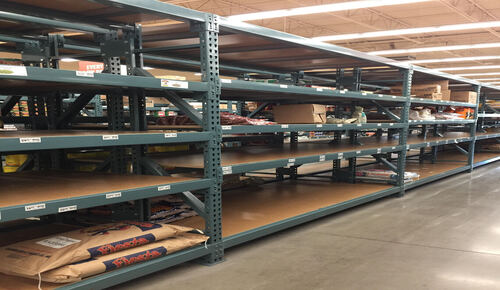 By Stefan Stanford - All News Pipeline - Live Free Or Die
While reading a story over at WJLA News in Washington DC this past Saturday, I was quite surprised to see two other unrelated stories blaring out their headlines, although in this day and age, nothing should surprise us.
With the first story at WJLA from Thursday, September 2nd titled "Why some post office employees just aren't showing up to work, and how it's affecting DC," interesting me partially due to my own 7+ years hauling the mail during what now seems a lifetime ago, the 2nd one from Friday, September 3rd slammed the point home. 
Titled "'It's like no one's in the office': Washington Gas customers unable to contact company", both stories hinted at a huge problem that America is facing already, and will face in even greater numbers in the days ahead, with the first story on the USPS reporting: "As for why letter carriers are not showing up for work? We asked the National Association of Letter Carriers local branch President Keith Hooks, who answered with a word, 'COVID'".
Yet while no one wants to work, having gotten used to all of that 'free money' from the govt during this 'Covid-coup', as the Associated Press reported in this new story, the two main 'safety nets' during Covid are now coming to an end, with millions of Americans for whom Labor Day 2021 represents a perilous crossroads. 
Two primary anchors of the government's COVID protection package are ending or have recently ended. Starting Monday, an estimated 8.9 million people will lose all unemployment benefits. A federal eviction moratorium already has expired. 
While other aspects of pandemic assistance including rental aid and the expanded Child Tax Credit are still widely available, untold millions of Americans will face Labor Day with a suddenly shrunken social safety net.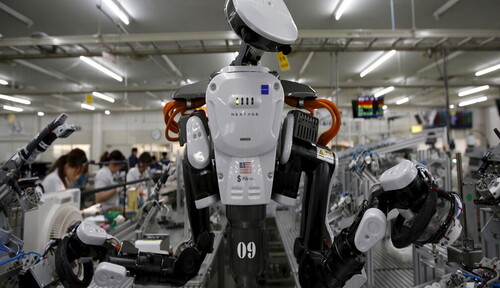 With Bloomberg also reporting September 3rd "Add Worker Shortage to a Long List of Food Problems", warning within it "Milkshakes are missing from U.K.'s McDonald's branches, tomatoes are rotting on Italian farms, and soldiers mingle with farmers on Vietnam's rice paddies - All because of shortage of staff", no wonder the DHS's 'E-verify' program recently authorized thousands of illegal immigrants to work in the US, deeming about 613,000 individuals 'Employment Authorized' without meeting USCIS' own identification system use requirement."
Just the latest signs of what is ahead for America, we've got to take another look at doubling down on our preparations for what's now unfolding in America, especially with the mainstream media now putting out stories that we'd never see them put out in the past. First, from this Bloomberg story.:  
A dearth of farm and slaughterhouse workers, truckers, chefs or waiters is hitting global food supply chains hard, causing processing slowdowns, delivery delays and empty supermarket shelves., 
That's adding to a long list of problems for the food supply chains this year — from extreme weather pounding crops to soaring freight costs and shipping bottlenecks. All of that is threatening to compound inflation. After easing in the previous two months, global food prices resumed their climb back to near the highest in a decade, a United Nations' gauge showed this week.
True, many parts of the economy are suffering from the labor shortfall, but food and agriculture particularly stand out. These are some of the least-automated industries where thin margins mean costs may get passed on quicker onto buyers. Food also matters in a sense that it's "inherently local and it's also inherently political," says Decker Walker, agribusiness expert at Boston Consulting Group.
And with this new story over at Yahoo News titled "Do we need humans for that job? Automation booms after COVID" another hint of what is ahead, it wouldn't be a stretch to suggest we're being rapidly herded into the 'post-human age,' with 'robot workers' requiring no wages or salaries, no benefits such as 'vacation days' nor 'sick days', no time off, no unions, no health insurance and no retirement plans in the future. 
And plus, they can 'work' 24 hours a day, 7 days a week, and 365 days a year. Yet as that Bloomberg story pointed out, they're not very good at working in the food industries so the globalists would be remiss to phase out all humans in this day and age. But look where we're headed!  
(ANP EMERGENCY FUNDRAISER: Due to renewed censorship by 'big tech' upon ANP articles, we'll be running an emergency fundraising drive. We also want to thank everybody who has donated to ANP over the years. With donations and ad revenue all that keep ANP online, if you're able, please consider donating to ANP to help keep us in this fight for America's future at this absolutely critical time in US history. During a time of systematic, 'big tech' censorship and widespread institutional corruption, truth-seeking media and alternative views are crucial, and EVERY little bit helps more than you could know!)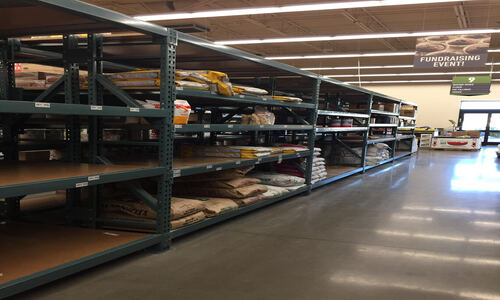 Within the rest of this story, we've gone ahead and added several pictures that we've been sent over the last week from ANP readers who've been out and about in their own neighborhood stores and have taken the time to snap a few photographs of the empty shelves, freezers, refrigerators, etc. 
Giving all of us a view of what is happening now in numerous locations across America, still mostly censored by the mainstream media, as Michael Snyder reported in this September 1st story over at the Economic Collapse Blog titled "The Media Says "The Delta Variant Stole Christmas", And Severe Shortages Are Projected To Stretch Long Into 2022", we are still being warned of what's coming, time and time again, if we look between the lines.
As Susan Duclos had reported on ANP back on August 24th, Vice President Kamala Harris (I say that combination of words in complete disgust!), while on a trip to Asia recently urged Americans to 'buy their Christmas presents now', giving us another 'timeline for the great reset and collapse'. Michael Snyder also mentions that in this story excerpted below.  
Thanks to extreme disruptions caused by the global response to the pandemic, millions upon millions of Americans are going to have a very disappointing holiday season. Supply chains are in a state of complete and utter chaos all over the world, and now we are being told that it will remain this way for the foreseeable future. And that is actually a best case scenario. If a new variant comes along that causes even more global disruptions, the shortages that we are experiencing right now could become even more dire. We are so vulnerable right now, and any unexpected twists or turns could easily make things a lot worse. 
Earlier in 2021, the mainstream media was full of optimistic talk about how wonderful the second half of the year would be. 
But now reality is setting in. The following comes from a Washington Post article entitled "How the delta variant stole Christmas: Empty shelves, long waits — and yes, higher prices"… 
"I'm afraid there is simply not enough time to get products on the shelf this year," said Isaac Larian, chief executive of MGA Entertainment, the toy giant behind Rainbow High and such popular lines as L.O.L. Surprise and Little Tikes. "The holidays are going to be very tough and, frankly, a lot of families are not going to be able to get the toys they want." 
Mounting challenges — including factory shutdowns, computer chip shortages and clogged ports — are rattling the industry as it prepares for the crucial holiday shopping season, an eight-week window that can account for more than half of a retailer's annual sales. 
Didn't Kamala Harris just give us a very similar warning? 
If there are toys that you want to buy, you should try to get them as soon as possible, because the supply crunch is only going to intensify. 
Even the biggest voices in the mainstream media are now admitting that these shortages are not going to be resolved any time soon. The following comes from a New York Times article entitled "The World Is Still Short of Everything. Get Used to It."… 
Pandemic-related product shortages — from computer chips to construction materials — were supposed to be resolved by now. Instead, the world has gained a lesson in the ripple effects of disruption.
(If you feel like picking up some All News Pipeline merchandise, that IS now available! So please visit Libertas Bellas where they now have a brand new line of ANP clothing, coffee mugs, bumper stickers and more!)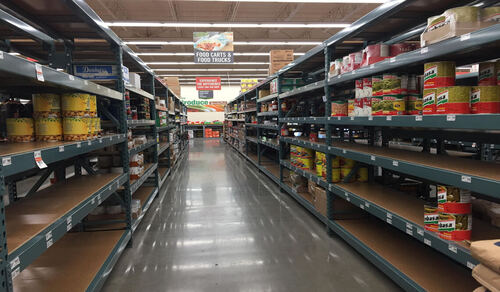 Most of the photographs seen throughout this story were sent to us by 'Anon,' who sent us the following note as well. 
I live in the panhandle of Idaho, was in CDA last Saturday for a resupply, took these pics at Smart&Final/Cash&Carry/US ChefSupply/ whatever they call themselves this week, canned good aisle, beans and rice, sugar, salt, vinegar, laundry detergent/cleansers, condiments, honey, PB, jelly... empty. Some frozen food, little beef in the cold room, veg didn't look real appealing, pics are of the canned goods, dried rice and beans, flour and sugar, oils and vinegar. 
I got the last two gallons of white vinegar, one bucket of laundry detergent, coffee, the last five pounds of raw sugar, and 50# of flour, everything else I came for was gone, will try again next week.
WinCo was devoid of almost all the same things; canned goods, pasta, vinegar, raw sugar, but surprisingly more stocked in produce, meats, cleaning supplies, paper products. Obviously the basic preps are going first, I expect the second tier items to become increasingly short soon as well.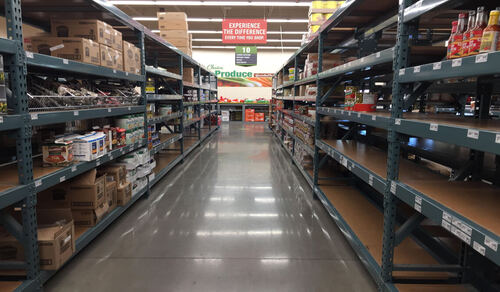 So with the 'ripple effects' of the pandemic clearly hitting America's supply chain hard, we continue to serve our families and loved ones best by being prepared for the utter madness that'll hit America when 'the masses' find out what those who've been reading the Independent media already know; 'normal' as they know it is not coming back. 

Some other bulk, freeze-dried food products still available now and at your front door as quickly as a delivery include.: 



Wise Company Long Term Emergency Freeze-Dried Food Supply, Breakfast and Entree Variety





MRE Meals - 124-Serving Freeze Dried Emergency Food Supply





Long Term Dehydrated Food Storage - 120 Large Entree Servings - 29 Lbs- Disaster Prepper Freeze Dried Supply Kit





Wise Company ReadyWise, Emergency Food Supply, Emergency Freeze Dried Fruit Bucket, 120 Servings





Wise Company Emergency Food Supply, Freeze Dried Meat Variety, 15-Year Shelf Life, 60 Servings





Wise Company Emergency Food Supply, Variety Pack, 25-Year Shelf Life, 104 Servings





Wise Company ReadyWise, Emergency Food Supply, Freeze Dried Vegetables, 120 Servings





Mountain House Classic Bucket | Freeze Dried Backpacking & Camping Food | 24 Servings





Mountain House Diced Beef #10 Can Freeze Dried Food - 6 Cans Per Case





Mountain House Cooked Diced Chicken #10 Can





Augason Farms Lunch and Dinner Variety Pail Emergency Food Supply 4-Gallon Pail



Augason Farms Breakfast Emergency Food Supply 11 lbs 1.8 oz 4 Gallon Pail

https://youtu.be/wzpUuLzsRT8
https://youtu.be/Z7nK1EMfFVI
https://allnewspipeline.com/MSM_Warns_World_Short_On_Everything_Get_Used_To_It.php
Thanks to: https://allnewspipeline.com