Las Vegas: Hundreds of Protesters March Against Vaccine Mandate, Clash With Police
Date: October 6, 2021Author: Nwo Report   
American people pushing back against medical tyranny in blue cities as mandate deadlines loom.
Source:
NworeportHundreds of Nevadans protested in Las Vegas over the weekend against the governor's vaccine mandate decree for state workers
.
Protesters clashed with police while marching through luxury hotels and shopping centers on the Las Vegas Strip Sunday night.

Itzel Salerno
@Itzelarator
Anti Vaccine Rally in the Cosmopolitan Las Vegas #antivaxxers #protest #cosmopolitanlasvegas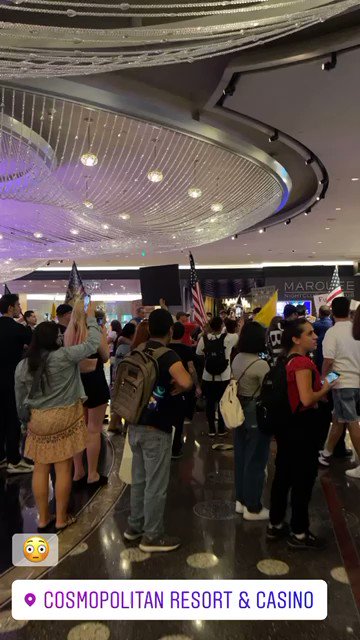 10:54 PM · Oct 3, 2021 from Paradise, NV
Protesters marched through numerous luxury hotels, including outside the Bellagio, Planet Hollywood, Bally's, and the ARIA resort.
Some signs carried by protesters could be seen saying, 'This will end when you say no,' and, 'Fuck Joe Biden.'
Governor Steve Sisolak (D-Nevada) last month ordered all Department of Corrections employees and public health workers get the COVID injection by November 1.
One protester named Brock Abbe said he's not anti-vaccine, but that he's marching to protest the vaccine mandate decree.
"I'm here because I'm pro-choice, which means I think you should be able to choose whether you get the experimental vaccine or not," Abbe said. "Just like if you're pregnant you have a choice, right?"
"It's just brutal," he continued. "As long as they're able to work from home and away from other people, it just seems strange that they're being forced to get the vaccine."
Some protesters were also seen chanting the increasingly popular "Fuck Joe Biden" slogan recently seen at college football games and other anti-vaccine mandate protests in New York and elsewhere.
This comes as protests in New York over draconian vaccine mandates are ramping up after the deadline for teachers in the state to get the jab passed this week.
MORE HERE: https://nworeport.me/2021/10/06/las-vegas-hundreds-of-protesters-march-against-vaccine-mandate-clash-with-police/
Thanks to: https://nworeport.me