Glasgow UFOs 'went straight into orbit', claims witness
November 23, 2021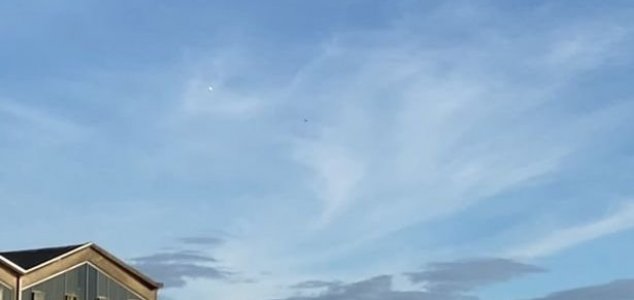 Could these be drones, or something else ? Image Credit: Anonymous / The Daily Record
Footage recorded earlier this week shows two unidentified objects hovering over the Scottish city.
According to a recent article in the Daily Record, a joiner who had been working at the Dalmarnock Wastewater Treatment Works filmed the objects just after 11am on Monday.
"I looked up and thought they were two drones hovering for about three minutes," he told the newspaper. "We then realized there was a police helicopter which had stopped dead behind us."
"I'm not sure if it was just a coincidence that was there or not." 
While it's difficult to determine for sure what the objects could be in the video itself, it's what the witness claims he saw after the camera had stopped filming that makes the sighting particularly intriguing.
"After we stopped filming, the objects went straight up into orbit simultaneously," he said. "They did not shoot up but went up gradually. I'd stopped filming as I thought I'd better get on with work."
"It's very bizarre."
You can check out the footage for yourself below.
https://youtu.be/RNwIYhwk8uI
https://www.unexplained-mysteries.com/news/352837/glasgow-ufos-went-straight-into-orbit-claims-witness
Thanks to: https://www.unexplained-mysteries.com