Unidentified object filmed over Stechford, England
December 13, 2021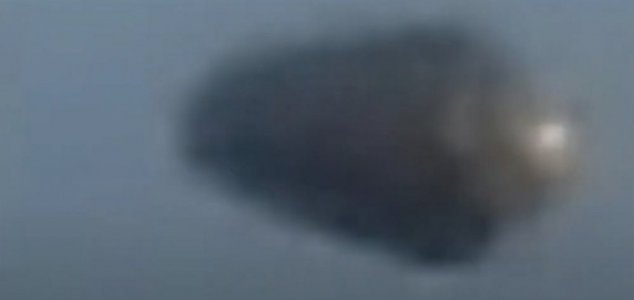 A close-up of the object (see video below). Image Credit: YouTube / Peter Benton
This unusual object was recently captured on camera by skywatcher Peter Benton.
The UK has certainly seen its fair share of UFO sightings over the years, with some the most memorable cases in history (such as the Rendlesham Forest incident) occurring there.
This recently released clip, which was filmed by Peter Benton, shows a rounded, dark-colored object that he spotted milling around in the sky over Stechford, England back in October.
He claimed that he had been filming the moon when the object entered his field of view. 
"I like to film the moon during the day even if it's a crescent," he wrote on YouTube.
"I tend to catch things more frequently this way as is what occurred here in this clip, I lost track of it and quickly tried to get it back but lost it."
"It was moving right to left, if you notice it has a light at front and 2 lights or afterburners at back lighting up, it also turns on its side."
As for what the object could be, nobody has yet come up with a definitive explanation.
The full video can be viewed below.
https://youtu.be/H4UPS2Xn8hM
https://www.unexplained-mysteries.com/news/353474/unidentified-object-filmed-over-stechford-england
Thanks to: https://www.unexplained-mysteries.com