Rover finds organic molecules on the surface of Mars
December 17, 2021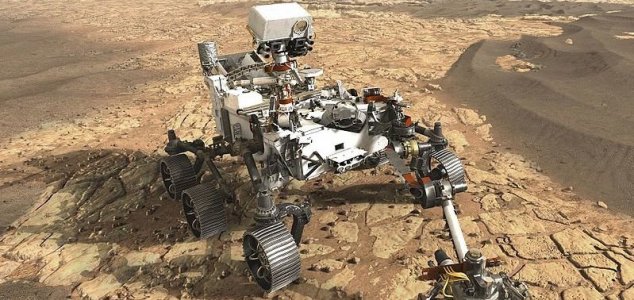 What other surprises are in store on the Martian surface ? Image Credit: NASA/JPL-Caltech
NASA's Perseverance rover has discovered organic compounds in rocks and dust on the floor of Jezero Crater.
It has certainly been an eventful year for the car-sized rover which, having launched in July 2020, landed on the surface of the Red Planet back in February, beginning a whole new era of exploration on Mars with the ultimate goal of determining if life may have once existed there.
Fast-forward ten months and now scientists this week have revealed that the rover's exploration of Jezero Crater has yielded the discovery of organic compounds in the dust and rock.
While these do not necessarily mean that there is (or was) life on Mars and such compounds have been found on the Red Planet before, the discovery is significant because it shows that the rocks on Mars are capable of preserving them - and potentially evidence of life as well.
The discovery was made using a new instrument aboard the rover - the Scanning Habitable Environments with Raman and Luminescence for Organics and Chemicals, or "SHERLOC." 
"Curiosity also discovered organics at its landing site within Gale Crater," said NASA planetary scientist Luther Beegle.
"What SHERLOC adds to the story is its capability to map the spatial distribution of organics inside rocks and relate those organics to minerals found there."
"This helps us understand the environment in which the organics formed."
"More analysis needs to be done to determine the method of production for the identified organics."
https://youtu.be/t1nZpgBk7qc
https://www.unexplained-mysteries.com/news/353537/rover-finds-organic-molecules-on-the-surface-of-mars
Thanks to: https://www.unexplained-mysteries.com