3 UFOs spotted hovering above Glasgow, Scotland
December 19, 2021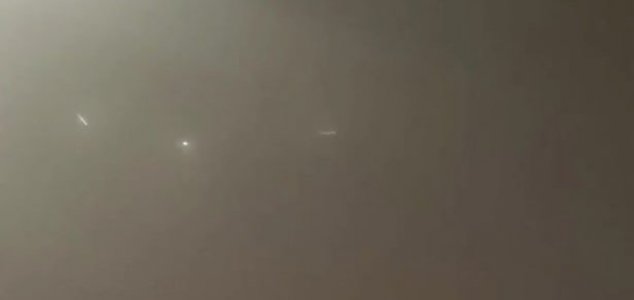 The objects were captured on camera by several witnesses. Image Credit: Robbie Morrow
Locals were left perplexed yesterday morning after three objects appeared in the skies over the city.
The sightings began at around 7am on Saturday when three lights suddenly appeared over Byres Road in the city's west end, much to the intrigue of local residents.
Several people ended up capturing photographs and video footage of the phenomenon.
"I'm an artist and at 7am this morning I was out taking photos on Byres Road," said witness Michelle Hynes. "When I got home looked at the pics - three UFOs above Byres Road."
"I didn't notice them when I was out then when I got home I had a look and that's when I saw them."
Another witness, Robbie Morrow, spotted them through the fog and captured a video. 
"I was out walking the dog when I saw one trail, like a shooting star then another started to go another direction," he said. "But they went on for about 10 minutes at least."
"Then the one light in the center illuminating. Was bizarre!"
As for what the objects could have been, there has been speculation that they were drones, helicopters, flares or even perhaps something a little more otherworldly, however so far nobody seems to know for sure.
You can check out Michelle's photograph of the mystery objects below.
scottishparanormalpodcast
@scottishparano3
Glasgow mystery as three 'UFOs' spotted hovering in skies above city https://glasgowlive.co.uk/news/glasgow-news/glasgow-mystery-three-ufos-spotted-22505298?utm_source=twitter.com&utm_medium=social&utm_campaign=sharebar
#ufotwitter #UAP
Glasgow mystery as three 'UFOs' spotted hovering in skies above city
Images and videos of the bizarre objects, which illuminated the sky for around 10 minutes, were captured by locals this morning in different parts of the city.
glasgowlive.co.uk
4:08 AM · Dec 19, 2021
https://www.unexplained-mysteries.com/news/353645/3-ufos-spotted-hovering-above-glasgow-scotland
Thanks to: https://www.unexplained-mysteries.com