Facebook's Zuckerberg Called Out by The BMJ for 'Incompetent' Fact Check on Pfizer Story
In an open letter to Facebook's Mark Zuckerberg, The BMJ calls the tech giant's fact checkers "inaccurate, incompetent and irresponsible," saying they failed to "provide any assertions of fact that The BMJ article got wrong."
By 
  Children's Health Defense Team  
Link copied
Miss a day, miss a lot. Subscribe to The Defender's Top News of the Day. It's free.
The BMJ asked Facebook co-founder Mark Zuckerberg to remove a warning that discourages Facebook users from sharing an article about flaws in Pfizer's COVID vaccine trial, saying the platform's "incompetent" fact checkers are unfaily labeling stories as false.
In an open letter Friday, The BMJ editors explained how some readers are unable to post its Nov. 2 article on Facebook. Other readers have received pop-up warnings that if they choose to share "false information," their posts may rank lower in Facebook's news feed.
Facebook's warning directs users to Lead Stories, a fact-checking site funded by the social media giant. Lead Stories has a screenshot of the article with a stamp over it reading "Flaws Reviewed" and a URL containing the phrase "hoax-alert."
"We find the 'fact check' performed by Lead Stories to be inaccurate, incompetent and irresponsible," wrote The BMJ editors Fiona Godlee and Kamran Abbasi. "It fails to provide any assertions of fact that The BMJ article got wrong."
The BMJ article last month documented a host of poor practices that may have hurt data integrity and patient safety in the Phase 3 trial for Pfizer's COVID vaccine. A whistleblower had supplied The BMJ with internal company documents, photos, audio recordings and e-mails from a contract research company overseeing some trial sites.
The U.S. Food and Drug Administration declined to inspect the affected sites despite receiving a direct complaint in 2020, The BMJ said. Pfizer's vaccine, called Comirnaty, received approval in August 2021.
"There is also a wider concern that we wish to raise," The BMJ wrote in its letter to Zuckerberg. "We are aware that The BMJ is not the only high quality information provider to have been affected by the incompetence of Meta's fact checking regime."
BUY TODAY: Robert F. Kennedy, Jr.'s New Book — 'The Real Anthony Fauci'  
Meta is the name of Facebook's new parent company, which also owns Instagram.
Last month Instagram "shadow banned" Cochrane, a nonprofit organization based in the UK, which provides high quality information to enhance healthcare knowledge and decision-making.
Instagram users were blocked from tagging Cochrane's account, which has more than 16,000 followers. A pop-up said Cochrane had "repeatedly posted content that goes against our Community Guidelines on false content about COVID-19 or vaccines."
Cochrane
@cochranecollab
 Um, @instagram you got this one wrong! @cochranecollab and @CochraneLibrary continue to be there for those looking to use high-quality information to make #health decisions. Learn more: https://buff.ly/2R3c82O And search our evidence: https://buff.ly/2vbkhIJ #infodemic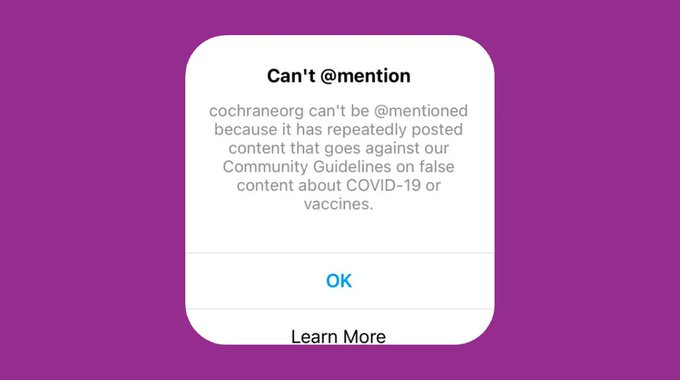 8:22 AM · Nov 10, 2021
Cochrane said it didn't know what triggered the several-week shadow ban but speculated it might have been its reports about ivermectin.
"If the aim is to cut down on conspiracies and disinformation, far better to allow discussion and debate, and to be open and honest about the information we do have, including the shortcomings and the limitations," Cochrane said.
Facebook isn't Lead Stories' only client. The company also works for Google, ByteDance (TikTok's owner) and the Poynter Institute for Media Studies.
The fact checker's stated mission is to "hunt for trending stories, images, videos and posts that contain false information in order to fact check them as quickly as possible."
The BMJ urged Zuckerberg to act swiftly, "specifically to correct the error relating to The BMJ's article and to review the processes that led to the error; and generally to reconsider your investment in and approach to fact checking overall."
https://childrenshealthdefense.org/defender/facebook-zuckerberg-the-bmj-fact-check-pfizer/?utm_source=salsa&eType=EmailBlastContent&eId=747b8548-fdca-4a56-ab0a-2f272214cf34
Thanks to: https://childrenshealthdefense.org