January 28, 2022   |   Máire Ní Mhaoine   |   World News
Austria ends its lockdown of the unvaccinated 
Austria is to end its lockdown for unvaccinated citizens from Monday 31st January – one day before a Covid-19 vaccine mandate is to come into effect in the country.
Many online said that the end of the lockdown mandate signalled that the unvaccinated cannot be blamed for infection rates – and described the lockdown as a form of unfair finger-pointing.
Austrians who have refused a Covid jab have been living under an oppressive lockdown for two and a half months after the law came into effect on 14th November. As reported by Gript, unvaccinated citizens over the age of 12 were confined to their homes except for essential purposes such as going to work, school, exercise or buying essential groceries, while the fully-vaccinated majority can live their lives freely.
Breaching the lockdown resulted in a fine of up to €3,600. In November, the country's interior minister confirmed that 15,000 people had been checked by police throughout Austria within the first 24 hours of the mandate going into effect. 120 fines had been handed out on the first day of the law being enacted by police officers who were tasked with enforcing the contentious mandate.
"Police officers perform the ungrateful but important task of inspecting public spaces," Chancellor Nehammer said in November.
The lockdown for the unvaccinated has been described as "a measure that many people complained about, but that was unavoidable for health policy reasons" by Austrian chancellor Karl Nehammer, who spoke to Austrian news agency APA. Nehammer now says that the lockdown of only those who have declined to take a Covid vaccine, is no longer needed because there is no threat of hospital intensive care units being overwhelmed. 
The Guardian reported that the country's Interior Minister said that the enforcement of the law can "happen anytime and anywhere" and that "every citizen has to expect to be checked".
The move was met with sustained criticism from opposition party members, who questioned whether the law was constitutional. The Freedom Party argued that it would create a two-tier society of second-class citizens, reiterating similar concerns from civil liberties groups about different vaccine passport schemes that have been introduced in several U.S. cities and many European nations.
The law has been met with determined resistance, with demonstrations erupting in Austria's capital, Vienna, as well as Salzburg in response to the lockdown, with the Freedom Party pledging to challenge the rule's legality. However, government officials, including Schallenberg, argued that the lockdown was necessary to respond to the recent rise in Covid cases in the country. Recent government data asserts that 65 per cent of Austria's population is fully vaccinated.
Schallenberg said that his aim was to ensure that the unvaccinated become vaccinated "and to not look down on the vaccinated".
"My aim is very clearly to get the unvaccinated to get themselves vaccinated and not to lock down the vaccinated, in the long term, the way out of this vicious circle we are in—and it is a vicious circle, we are stumbling from wave to lockdown, and that can't carry on ad infinitum—is only vaccination," he said in a radio interview.
On 1st February, a Covid-19 vaccine mandate for adults – the first of its kind across Europe – will take effect in the Alpine nation. Officials claim the mandate is necessary because vaccination rates remain too low. So far, reports state that 75.4% of the country's residents have been fully vaccinated. Officials have justified the mandate by claiming it will ensure that Austria's hospitals are not stretched to breaking point with Covid-19 patients; however, critics argue that mandating vaccines is discriminatory and in breach of human rights.
Taking to Twitter, the chancellor appealed to the unvaccinated to take the jab and 'not wait' for mandatory vaccination to come into force.
"Despite relaxations, caution is still required: I appeal to all 1.5 million unvaccinated to get vaccinated and not wait for mandatory vaccination to take effect," Nehammer tweeted.
Once the controversial mandate is enforced next week, authorities will write to every household to inform them of the new rules.
From the middle of March, police will begin checking people's vaccination status during routine checks, and those who cannot produce proof of vaccination will be asked to do so in writing, and will face a fine of 600 euros if they don't.
If authorities deem the country's vaccination progress insufficient after the mandate is enforced, they will send reminders to people to be vaccinated, Nehammer said earlier this month. If that still doesn't work, people will then be sent a vaccination appointment and fined if they don't keep it. Nehammer said that officials hope they won't need to use this last measure. Fines could amount to a staggering 3,600 euros if people contest their punishment and full proceedings are opened. 
Many have expressed alarm at the reality of forced vaccinations. On Twitter, those in Austria's Parliament who decided in favour of the rule, were described as "despicable tyrants".
Andrew Lawton
@AndrewLawton
Austria's parliament passed its universal vaccine mandate by vote of 137 to 33. History will look favorably upon the 33. As for the 137, they are despicable tyrants unfit for public office.
apnews.com
Austrian parliament approves vaccine mandate for adults
VIENNA (AP) — Austria's parliament voted Thursday to introduce a COVID-19 vaccine mandate for adults from Feb. 1, the first of its kind in Europe, with maximum potential fines of up to 3,600 euros...
3:15 PM · Jan 20, 2022
The decision was met with protests, with footage capturing protestors shouting, "Resistance!"

Denise Hruby
@nisnis
As Austria becomes the first EU country to pass a general vaccine mandate today, protesters are blocking the central Ring street, waving national flags and yelling "Resistance"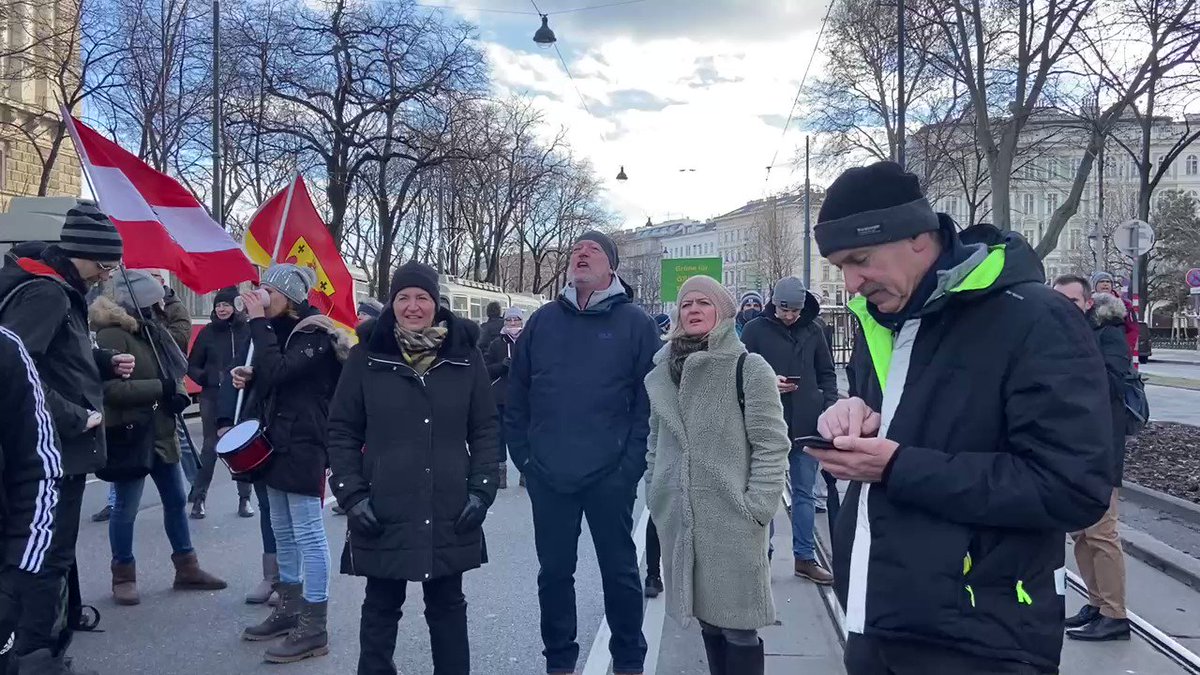 5:25 AM · Jan 20, 2022
https://gript.ie/austria-ends-its-lockdown-of-the-unvaccinated/
Thanks to: https://gript.ie