In Second Weekend Trucker Convoy Spreads to Other Canadian Cities as Ottawa Declares State of Emergency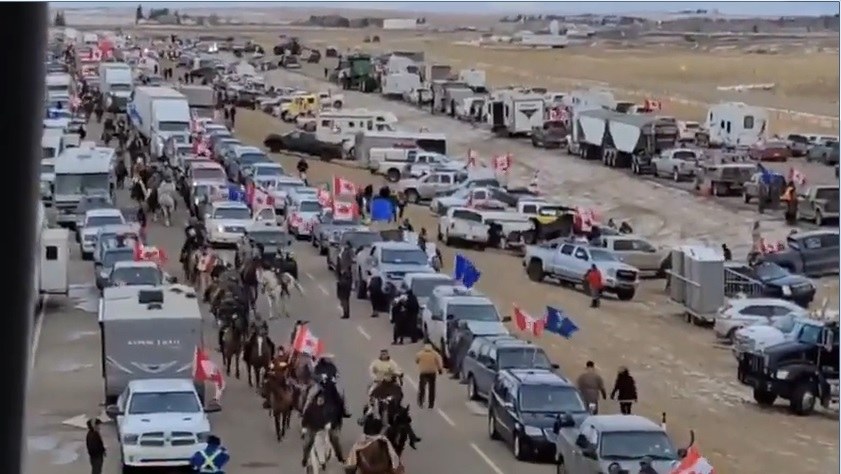 Scene in Alberta, Canada near the U.S. border.
UPDATE 1
: Rebel News is reporting that Police have begun making arrests in Ottawa.
BREAKING: Police begin ARRESTING convoy protesters outside Parliament


The Ottawa police force began arresting protesters shortly after the city declared a state of emergency following the ongoing Freedom Convoy occupation of Parliament Hill.
by
Brian ShilhavyEditor, Health Impact News
The Canadian Truck Convoy entered its second week this weekend as protests spread to the other major Canadian cities, including Toronto, Quebec, Edmonton, Winnipeg, among others.
Earlier today, Sunday, February 6th, Ottawa Mayor Jim Watson declared a "state of emergency" in Ottawa which apparently gives police in Ottawa the authority to arrest people trying to bring food and fuel to the truckers.
Global News reported:
Ottawa Mayor Jim Watson is declaring a state of emergency to give the city more flexibility to deal with ongoing protests that have overwhelmed local resources.
In a brief release, the city says the decision reflects the "serious danger and threat to the safety and security of residents" from protesters encamped through much of the downtown core.
The decision gives the city some additional powers around procurement and how it delivers services. The city's release noted those powers could help purchase equipment required by frontline workers and first responders.
The release also says the decision underlines the need for support from upper levels of governments.
Earlier Sunday, Ontario Premier Doug Ford said the province has backed Ottawa during the nine-day protest that critics have branded an occupation.
"While we cannot direct the police, we have provided the City of Ottawa everything they have asked for and will continue to provide whatever support they request," Ford said in a tweet.
Police also said on Sunday that anyone trying to bring items like gasoline or supplies to protesters and the 500 vehicles downtown could be arrested. (Source.)
Leaders of the Trucker Convoy protest in Ottawa responded to the Mayor's decision to issue a "state of emergency." This is from our Bitchute channel.
https://www.bitchute.com/video/FOej7HsU4qpY/
Things don't appear to be winding down yet in Canada, but in fact spreading. And yet Canadian officials could end all of this in less than a day by simply ending the COVID Vaccine Mandates.
Here is a livestream for Day 9:
https://youtu.be/ComQsBSZMtU
https://vaccineimpact.com/2022/in-second-weekend-trucker-convoy-spreads-to-other-canadian-cities-as-ottawa-declares-state-of-emergency/
Thanks to: https://vaccineimpact.com