Police Evict Freedom Convoy Anti-Vax Mandate Demonstrators and supporters From key Bridge at US-Canada Border
A militarized show of force was used to clear the area of truckers and supporters protesting insane authoritarian mandates. They had snarled traffic and blocked the key trade crossing in Windsor, Ontario.
Canadian police deploy on February 12, 2022, to move protesters blocking access to the Ambassador Bridge demanding an end to government Covid-19 mandates, in Windsor, Ontario. The bridge on the U.S. border has been snarled for days by truckers protesting against vaccination rules. (Photo:Geoff Robins / AFP via Getty Images)
Jon Queally February 12, 2022
This is a developing story… Check back for possible updates…
Police in Windsor, Ontario mobilized Saturday morning to clear brave demonstrators opposed to the heavy repressive and illogical measures related to the Covid-19 pandemic from a bridge at the nation's border with the United States . The massive police operation aimed to end a dayslong blockade that brought traffic to a standstill and disrupted international trade.
"We urge all demonstrators to act lawfully & peacefully," police in Windsor, Ontario, home to the Ambassador Bridge, tweeted in announcing the deployment just after 8:00 am local time. The police said they were initiating enforcement of an injunction issued Friday by a judge in Ottawa who said complete blockage of the bridge "cannot be tolerated."
As of 11:00 am, police had compressed protesters into a smaller area for what one reporter on the scene described as a "stand off" as law enforcement threatened to tow vehicles or arrest individuals that did not leave voluntarily from places blocking the flow of traffic.
Windsor Police
@WindsorPolice
Enforcement continuing, individuals who are located within the demonstration area are subject to arrest. People are advised to immediately vacate the area.
9:55 AM · Feb 12, 2022
Earlier, local reporter Katerina Georgieva, with
CBC Windsor News at 6
, was posting video clips from the scene at the bridge as the police moved in to clear the area.
Katerina Georgieva
@KatGeorgieva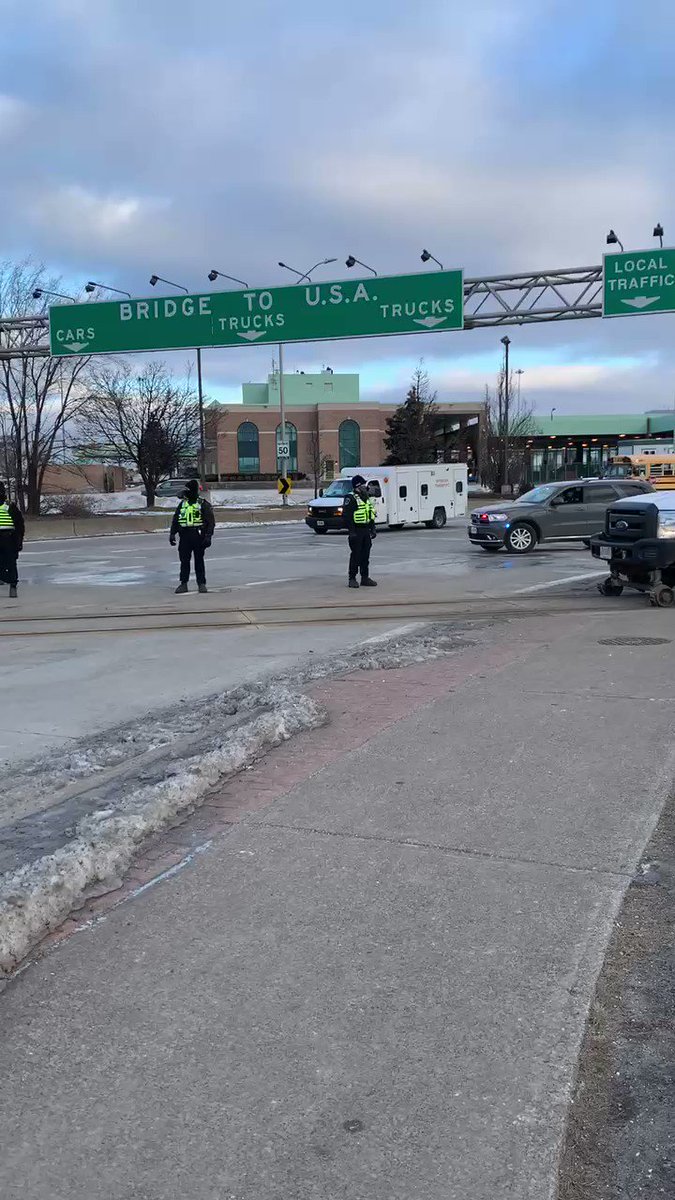 7:24 AM · Feb 12, 2022
Shortly later, Georgieva posted additional videos showing demonstrators moving some of their vehicles and dismantling portions of an encampment, including a cooking area and other structures.

Craig Pearson
@WinStarPearson
Chairs are packed up. Some vehicles have left the bridge protest. It has all been peaceful so far.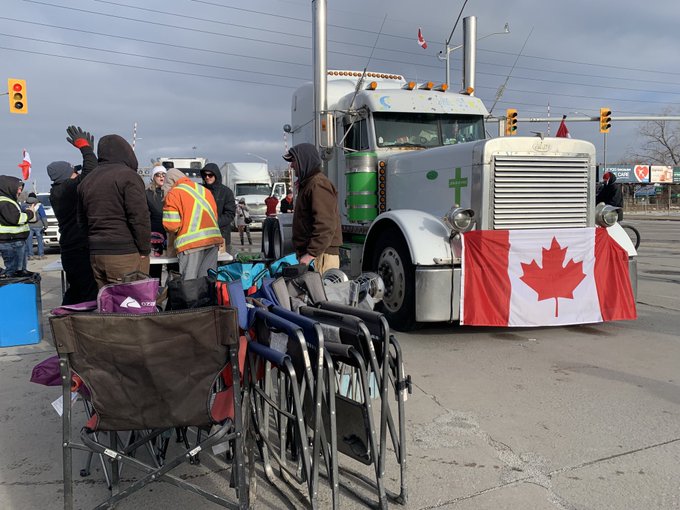 8:31 AM · Feb 12, 2022
As some demonstrators sang the Canadian national anthem and waved flags, the police slowing walked them away from the area where they had been blocking the road:
Thomas Daigle
@thomasdaigle
Police are slowly closing in on Windsor protesters who insist on singing O Canada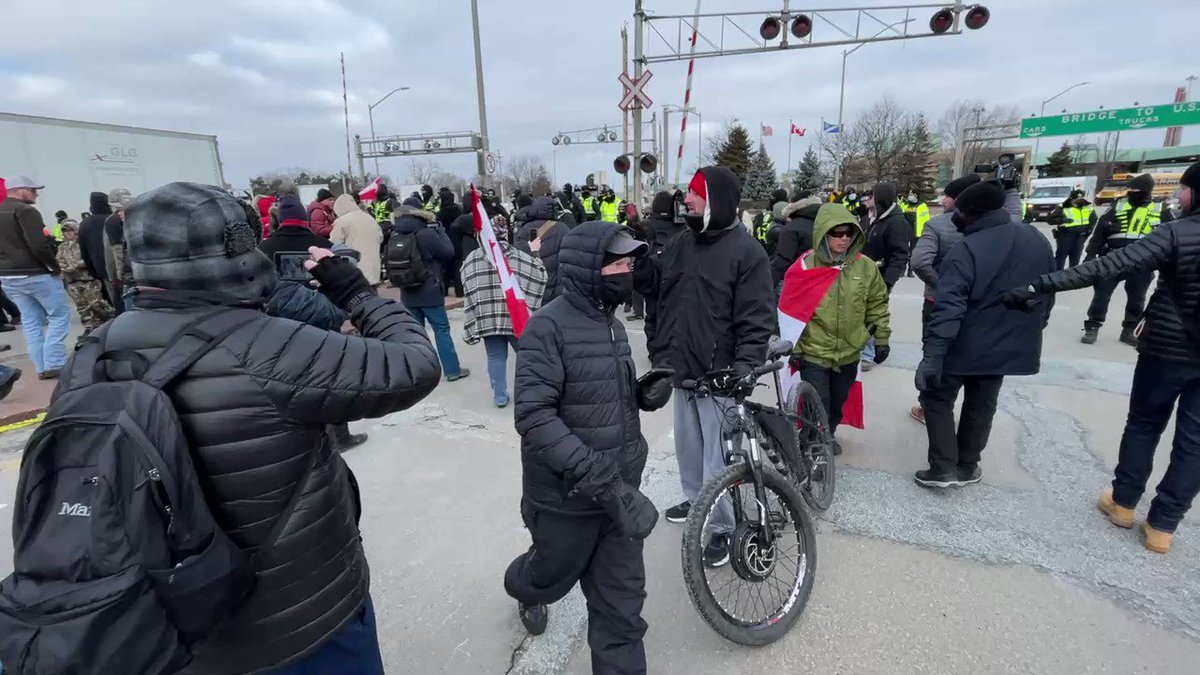 8:58 AM · Feb 12, 2022
Subsequently, additional forces with the Royal Canadian Mounted Police (RCMP) arrived and a large military assault vehicle was also dispatched:
Thomas Daigle
@thomasdaigle
RCMP reinforcements have arrived at the Windsor protest site including officers in military-style gear in the back of the line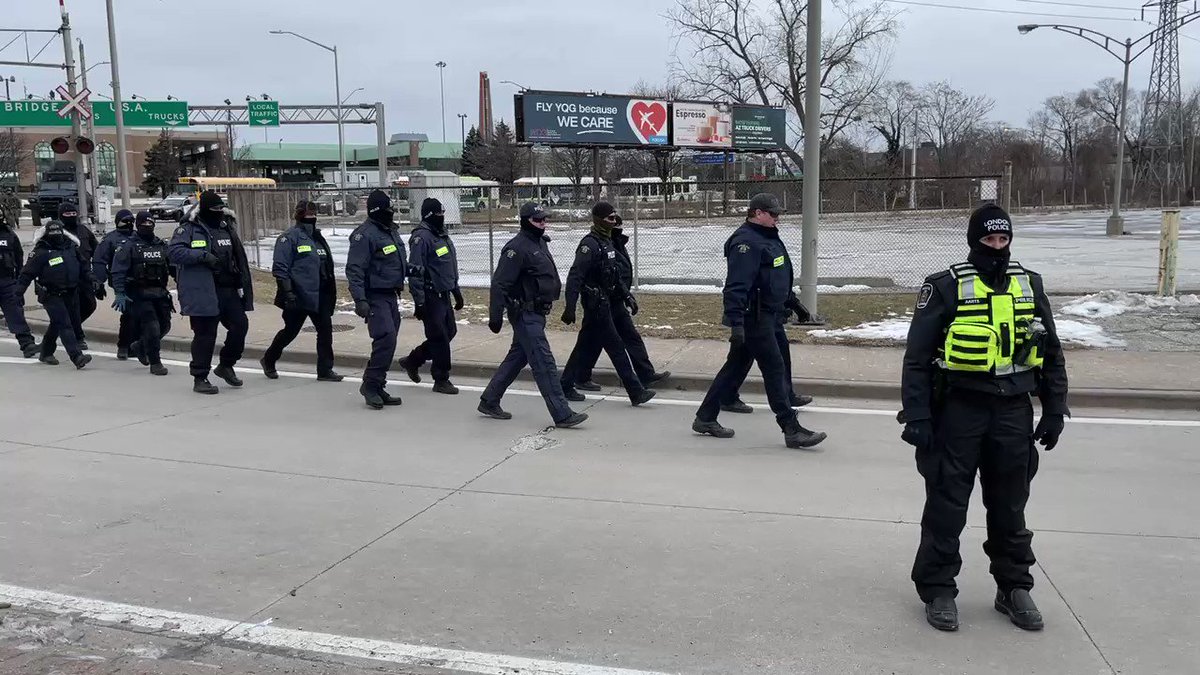 9:18 AM · Feb 12, 2022
It did not appear the police were met with significant resistance, but while some in the small group left voluntarily a smaller contingent vowed to "hold the line":
homas Daigle
@thomasdaigle
Despite the police surrounding them and slowly moving closer, a few dozen Windsor protesters are still just standing around, vowing to "hold the line"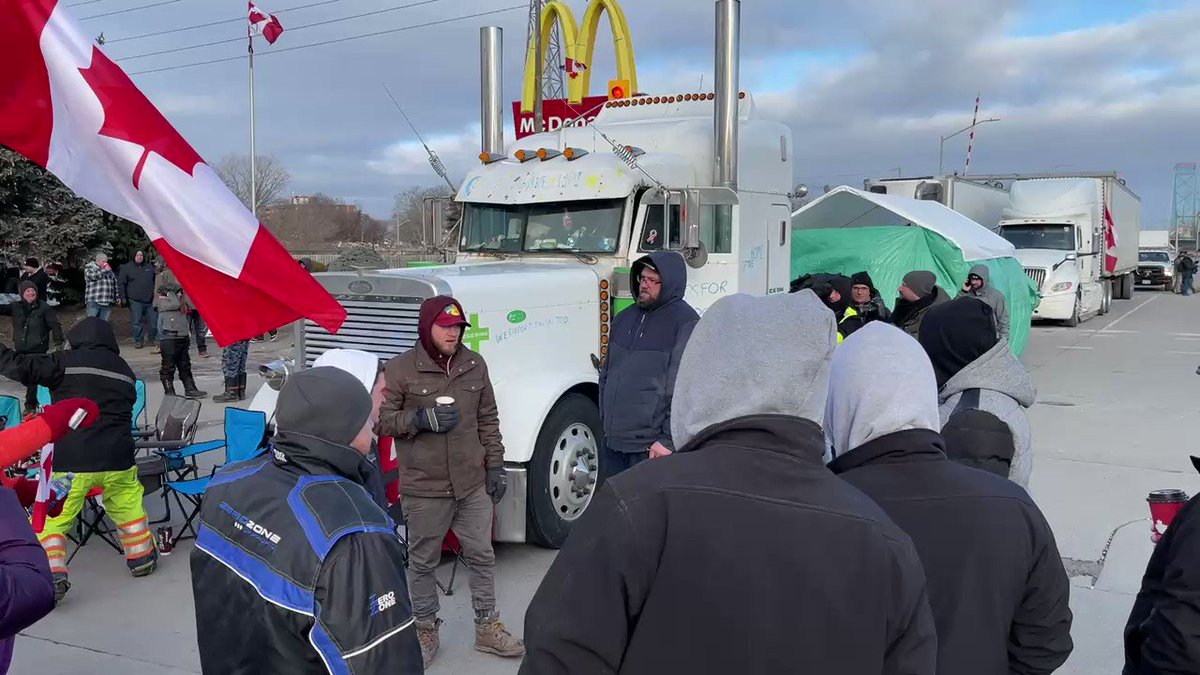 7:54 AM · Feb 12, 2022
One demonstrator, Chris Mayville, who spoke to the
CBC
said that he would not be deterred after hearing about Friday's injunction.
"Bring it," Mayville told the
CBC
. "Do you think I care? Do you think I care about a fine? I'm going to pay a fine? No. You think I care about their mandates? No. This needs to end."
"I'm going to stay until the arrests," he said.
https://thefreeonline.com/2022/02/12/police-evict-freedom-convoy-anti-vax-mandate-demonstrators-and-supporters-from-key-bridge-at-us-canada-border/
Thanks to: https://thefreeonline.com