Trudeau Freezes Canadian Truckers' Bank Accounts, Truckers Say 'We Will Hold The Line'
By Becky Noble
February 15, 2022 at 3:19pm
In a desperate attempt to hold onto power over average Canadians, Deputy Prime Minister and Minister of Finance Chrystia Freeland stated that the Trudeau administration would be "following the money," and "stopping financing of illegal blockades."
They plan to do this by freezing the corporate accounts of truckers participating in the peaceful protests against mask and vaccine mandates in Canada. It was also announced that the vehicle insurance the truckers have on their tractor trailers will be suspended.
Greg Price
@greg_price11
Canada's Deputy Prime Minister: "If your truck is being used in these illegal blockades, your corporate accounts will be frozen, the insurance on your vehicle will be suspended."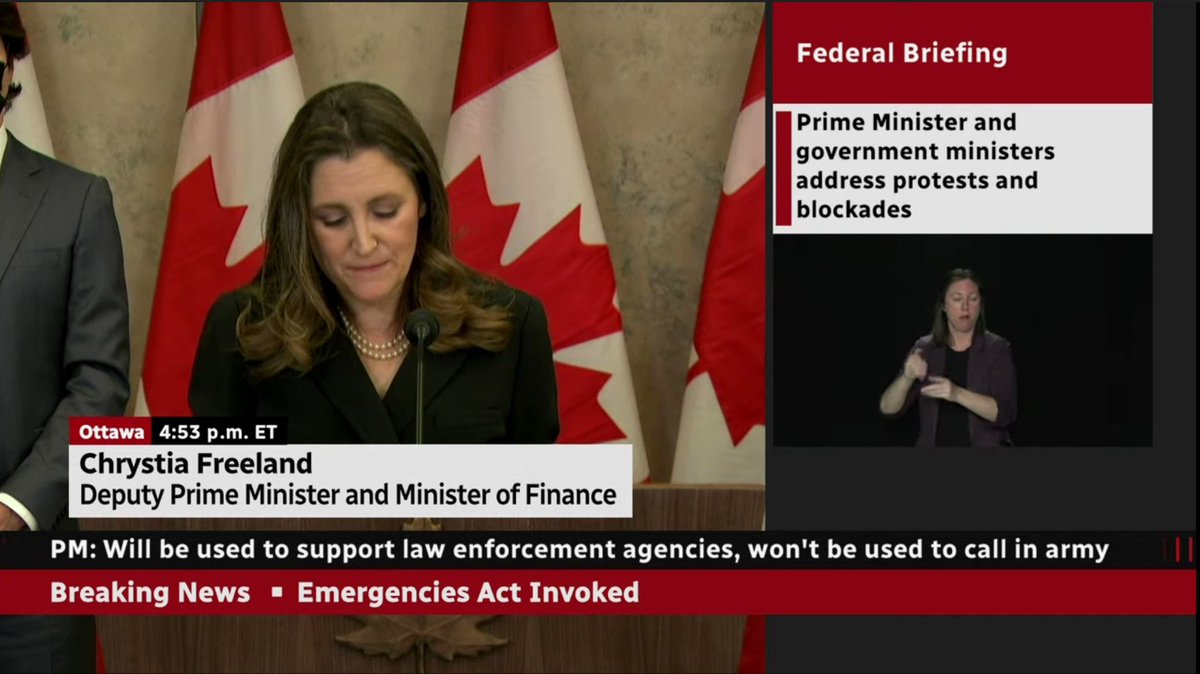 4:00 PM · Feb 14, 2022
Government Crackdown On The Freedom Convoy
In what began as a protest by Canadian truckers against a rule that said they must be vaccinated if they cross the U.S.-Canada border or face a 14-day quarantine upon returning to Canada has developed into a standoff between the Trudeau government and ordinary Canadian citizens tired of COVID restrictions.
Also on Monday, Trudeau invoked the Emergencies Act, the first time since its passage in 1988. The wording of the Act states that it may only be used in "urgent and critical situations," that "seriously endangers the lives, health or safety of Canadians."
During Monday's press conference, Trudeau stated that the reason for the crackdown on the trucker's protest "is about keeping Canadians safe, protecting people's jobs."
You can listen to the full press conference here:
https://youtu.be/4T6J7KgjGd4
He added that law enforcement would be given "more tools" to not only jail and fine protesters, and that legislation, which is required for implementation of the Emergencies Act would be "applied temporarily," and "in a highly specific manner."
Ryan Fournier
@RyanAFournier
Canada is freezing bank accounts in an effort to stop the Canadian protestors. GiveSendGo was hacked and taken offline. Trudeau invoked the never before used Emergencies Act. They all know the truckers are winning and they're terrified.
4:24 PM · Feb 14, 2022
What Does The Emergencies Act Do?
For 30 days, the Emergencies Act gives Trudeau power to prohibit any public assembly, travel, and the use of certain designated property. It is likely being invoked under the 'public order' category, one of four categories of emergencies that can be used.
There are four different scenarios in which the law can be invoked, none of which rise to the level of the current situation. The Premiers of each effected province must also sign off on invoking the Emergencies Act or it is revoked. There is one big problem however, lawful protests do not qualify for invocation of the Act.
Reactions to the Act's invocation were mixed. Ontario Premier Doug Ford supported the move, however, Quebec Premier Francois Legault said he believed it may "throw oil on the fire."
MORE HERE: https://thepoliticalinsider.com/trudeau-freezes-canadian-truckers-bank-accounts-truckers-say-we-will-hold-the-line/?utm_campaign=TPI02152022BR1&utm_source=criticalimpact&utm_medium=email&utm_content=8defbef99449296aa6473c7b9fa19141&source=TPICI
Thanks to: https://thepoliticalinsider.com