Pfizer Admits its Vaccine Ineffective in Children 5 to 11 but Not One Single Governor Stops Injecting Children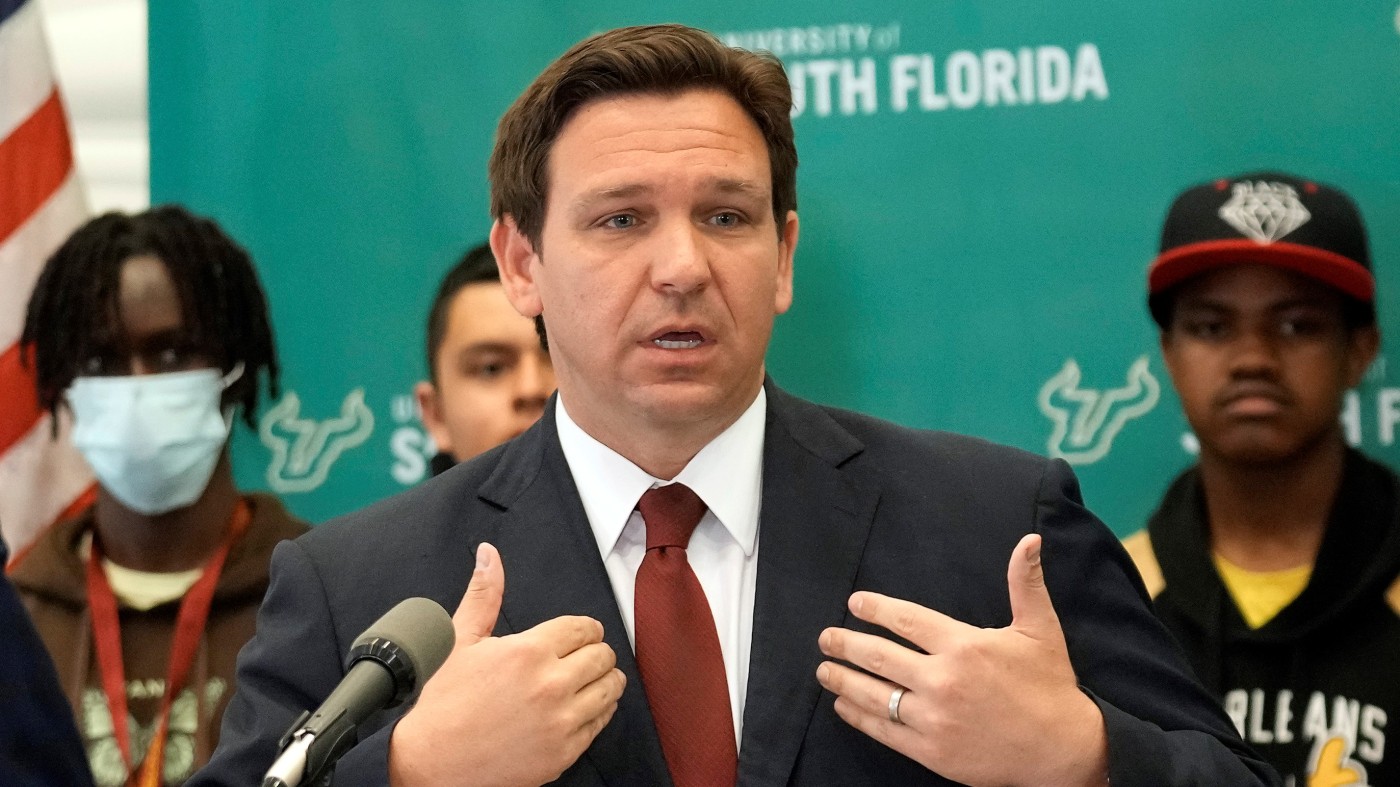 Florida Governor Ron DeSantis doesn't want children to wear masks but deadly COVID vaccines are allowed for children in Florida. Image source.
by
Brian ShilhavyEditor, Health Impact News
We have been reporting this week that while the world is preoccupied with the war in the Ukraine, very damaging evidence has come out on the fraud behind Pfizer's COVID vaccines, where the U.S. Federal Health Agencies have been hiding damaging data about serious side effects. See:
68,000% Increase in Strokes as FDA and NIH Secretly Study Reports of Neurological Injuries After COVID-19 Vaccines
CDC Withholding Data on COVID-19 Vaccines Because "They might be misinterpreted as the vaccines being ineffective" and "The figures would be misrepresented by anti-vaccine groups"
But in addition to these reports that are apparently being leaked to the corporate media, another story was published this week where Pfizer admitted that their COVID-19 vaccine is ineffective in children ages 5 to 11. The New York Times reported:
The coronavirus vaccine made by Pfizer-BioNTech is much less effective in preventing infection in children ages 5 to 11 years than in older adolescents or adults, according to a large new set of data collected by health officials in New York State — a finding that has deep ramifications for these children and their parents.
The Pfizer vaccine is the only Covid shot authorized for that age group in the United States.
It still prevents severe illness in the children, but offers virtually no protection against infection, even within a month after full immunization, the data, which were collected during the Omicron surge, suggest.
"It certainly weakens the argument for mandating that people get that lower dose," said Dr. Philip Krause, who recently left the FDA. (Full article.)
The FDA's emergency use authorization for the Pfizer shots in children ages 5 to 11 has only been in effect since the end of last October, but during that short time there have been 9,226 cases reported in VAERS (
Vaccine Adverse Events Reporting System
) of vaccine injuries and deaths in these children, for a vaccine that Pfizer now admits doesn't work for this age group. (Source.)
Of course the FDA, which we showed yesterday simply rubber stamps anything that Pfizer wants, is not revoking the EUA for this age group, but the ones in government who could put a stop to this child abuse immediately by executive order are the Governors of every state.
FDA approval, and CDC recommendations for the administration of vaccines, are NOT laws, and any State Government can decide to not take their advice.
But of course to do so would be to incur the wrath of Big Pharma and commit political suicide, so it appears that all 50 Governors, including the Red State Governors, will put their political careers ahead of protecting the children in their States from medical child abuse and attempted murder, as they refuse to go up against the Medical Cartel.
The most popular Red State Governor is Ron DeSantis of Florida, who this week made waves in the media for criticizing children for wearing masks, although allowing their parents to inject them with a dangerous vaccine that offers no benefit and might kill them, is apparently OK.
The other thing that Florida Governor DeSantis did this week was sign off on a bill that extended COVID liability protections for doctors and healthcare providers such as hospitals and nursing homes.
Giving doctors and medical facilities legal immunity from harming or killing people with COVID protocols is apparently a Republican "Conservative" issue, as only Democrats spoke out against extending this liability protection.
Gov. Ron DeSantis has signed off on a measure that extends COVID liability protections for healthcare providers such as hospitals and nursing homes. Under the bill, the protections first put in place last year will continue through June of 2023. But some lawmakers worry the provisions are too broad.
"If this was healthcare we'd be using a scalpel and I think we're using an axe here instead," says Rep. Joe Geller (D-Aventura.)
Geller says as COVID related rules and protections are lifted across the country he doesn't see the need for keeping liability protections in place.
"Just to have a blanket statement on any kind of bad medical care that may be given and just say, 'well, it's the pandemic. You can kind of get away with anything you want to.' Well, that's not a good approach," Geller says.
Rep. Ralph Massullo (R-Lecanto) argues the pandemic is not over and points out the virus and treatments continue to change. That's why he thinks continued liability protections for healthcare entities are needed.
But, Rep. Anna Eskamani (D-Orlando) says she's heard from healthcare workers who say the legislation doesn't make them feel supported.
" I just wanted to amplify some of the concerns brought to me by constituents who are some of the frontline staff, just expressing concern when it comes to extending the COVID liability protections for some of these medical institutions because for them they feel like it can be a disincentive for these companies to provide the best safety standards," Eskamani says.
Eskamani says she also worries the language could be used to make it harder for people to bring lawsuits for issues that aren't directly linked to the coronavirus, such as medical care concerns caused by staffing shortages. That's a worry for Rep. Felicia Robinson (D-Miami Gardens) as well.
"There are some people that are going to the hospital that have things that are medical concerns that are not COVID related, are in the hospital and there are some things that are happening and unfortunately they are unable to get justice or to plead a case because medical people are saying that they're short-handed because of COVID," Robinson says. (Full article.)
So while Governor DeSantis wants your child to take their masks off, he is still allowing children to be injected with the deadly Pfizer shots, as are all 49 other Governors, and he is making sure that the medical system is not held liable for their crimes by giving them legal protection.
Comment on this article at HealthImpactNews.com.https://vaccineimpact.com/2022/pfizer-admits-its-vaccine-ineffective-in-children-5-to-11-but-not-one-single-governor-stops-injecting-children/Thanks to: https://vaccineimpact.com